Geeks&Beats Episode 40 Now Available!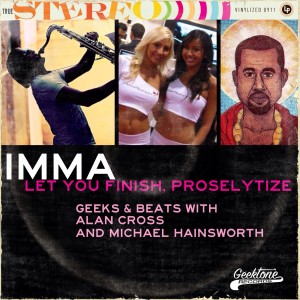 Michael is still sick with the CES Plague; in fact, it's turn into a throat infection.  I, on the other hand, have fully recovered from a strain of H1N1 that wasn't covered by my flu shot.  However, I has made rather grumpy by the Faithful Bull Terrier who insisted on yapping through a portion of the podcast.
Despite all that, we had an excellent conversation that I know you'll want to hear.  Here are your show notes:
How much money can you make from writing a mega hit song?  A lot.
Top car driving songs w/G&B listener voting. Get involved here.
The Church of Kanye West.  Seriously.
Music and the end of net neutrality.  This is bad.
History of Music used to wake up NASA astronauts.  This is fascinating for space nerds.
Back to CES for a second:  Why booth babes are bad for business.
How America's Funniest Home Videos survives.
Listen at the Geeks&Beats website or just subscribe through iTunes. Help us fund a useless Facebook advertising campaign.   And don't forget to send us some email.  We get lonely.