Geets&Beats Podcast, Episode 107: Whale of a Timewaster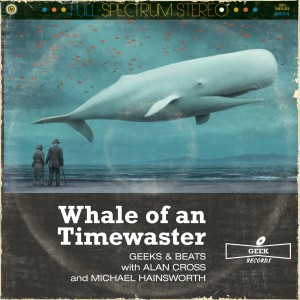 So I'm back in Singapore, sweltering in the equatorial humidity as I attend the annual Music Matters Conference in an effort to spread the Gospel of Geeks&Beats. I count two converted disciples so far. That's better than nothing, right?
By the way, if you find yourself accessing hotel wifi, run this test: HotelWifiTest.com to access the kind of service you're getting. Think of it as the TripAdvisor for hotel wifi service.
In my room the Valley Wing of the Shangri-La Singapore, I'm getting 15 MB down and 2 MB up–which is fine for wifi that's included in the room rate. Here at the Ritz-Carlton Millenia where the conference is headquartered, the free wifi lobby is 10 up and 2.2 down. That's okay until some moron starts torrenting an HD version of the finale of Mad Men while waiting for a session to start.
If, god forbid, you find yourself in a hotel that still charges for wifi–that's like charging for TV these days–run the test to see if you're getting value for your money. If not, complain. And complain loudly.
So with me here in Asia (Singapore this week, Brisbane next week) and with Michael enduring friendly fire from the park across the street (you'll hear what I mean), here's what came up on this week's show.
Hi Michael & Alan
 I hate to ask but I'm starting to feel left out all the way down here in New Zealand. I supported the show back in January and haven't seen any emails or a shout out on the show. It was a surprise for my wife while she was out walking for the Oxfam. She has now completed the Oxfam 100km challenge walk (took 27 hours) and her team raised $3000. Would still love to hear and see something. We both have been listening to the Ongoing History of New Music since 2006 and loving both shows. 
Wow, huh?
For more–and we have a crack team of writers adding content to the website every day–go here. The G&B Swag Store is open 24/7 for your convenience.  Here's where you can subscribe to everything we do. You can listen to us on the radio every week. (Yes, there's an actual G&B Radio Network.)
We'd also love it if you left us a message at (323) 319-NERD. And if you're not already a subscriber to the podcast through iTunes, well, you're a bad, mean person. Repair your karma by doing it now.
And are you into audio production? We're always looking for jingles, stagers, memes or anything else we can use in producing the show.
PS: Please like our Facebook page. And if you're in the a "liking" mood, go here, here and here , too.