Gene Simmons Has a Rare Moment of Clarity and Abandons Devil Horns Trademark Attempt
For reasons known only to Gene Simmons, he thought he could file a trademark on a hand gesture. But after, er, significant blowback from everyone from the widow of Ronnie James Dio to the people who designed American sign language, Gene has had a change of heart.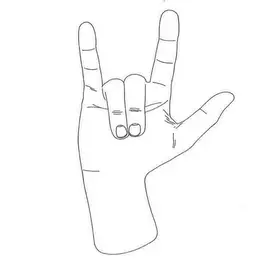 On advice from his lawyers, Gene has withdrawn his trademark application. Musicians and fans alike can continue to throw the horns without fear of being sued. So what happened? Consequence of Sound reports
Trademark expert Catherine Farrelly of New York-based Frankfurt Kurnit Klein & Selz said Simmon's decision to withdraw was a wise one considering he never had a shot at winning the trademark. "The application was doomed for failure for numerous reasons – including because his evidence of use did not actually show the trademark (Simmons used the wrong hand in the photograph)!" she explained. "I expect the application also would have been refused on the basis that the gesture is a generic symbol that does not function as a trademark, given its widespread use by other musical artists."
Here's another problem. The "evidence of use" cited above features Gene standing with Dave Grohl with Gene flashing the horns. However, what he's doing is the opposite of the example seen in the trademark application. Oops.