Gene Simmons Wants to Trademark Iconic "Devil Horns" Hand Gesture. UPDATE: Ronnie James Dio's Widow Offers Gene Another Hand Gesture.
Gene Simmons is talking with me about KISS merchandise.
"There are 8,000 items for sale officially blessed by us. We've licensed that many products. From KISS condoms to KISS caskets, we'll get you coming and going."
He stopped for a second as it anticipating a laugh. When I just smiled he moved on.
"Ever play Monopoly?"
"Of course."
"You know Uncle Rich Moneybags? He's the old guy in the top hat mustache carrying a bag full of money with the dollar sign on it."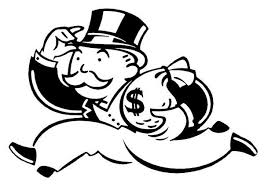 "Yeah?"
" I own that."
"Own what?"
"I own the trademark on the image of a bag full of money with a dollar sign on it. I thought to myself  one day 'I wonder if anyone owns the rights to that image.' So I checked and no one did, not even Parker Brothers. So I filed a trademark request and it was granted. Now anytime anyone wants to use the money bag, they have to pay me."
This story came back to me when I heard that Gene was looking to trademark the iconic "devil horns" hand gesture that rock fans have been using for decades. Well, not quite those devil horns, but we'll get to that.
Throwing the horns originated with Ronnie James Dio, which he adapted from his Italian grandmother who often invoked the horns to ward off the malocchio (the evil eye), bad luck or malevolent spirits.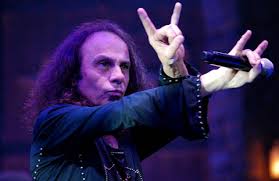 Ronnie's grandmother was just doing what people in the Mediterranean had done for centuries. In Italy, it's known as the coma. Other cultures–Peru, India. Nepal, Wiccan and many others–also invoke the gesture when required. It's also used by some Italians as a way of saying "your wife is cheating on you."
In 2001, Dio was asked about his horns: "I doubt very much if I would be the first one who ever did that. That's like saying I invented the wheel, I'm sure someone did that at some other point. I think you'd have to say that I made it fashionable. I used it so much and all the time and it had become my trademark."
Let's take a closer look at the gesture. Done the Dio way (which, I suppose, is the accepted metal way) involves extending the pinky and forefinger up and folding the thumb over the middle two fingers thusly.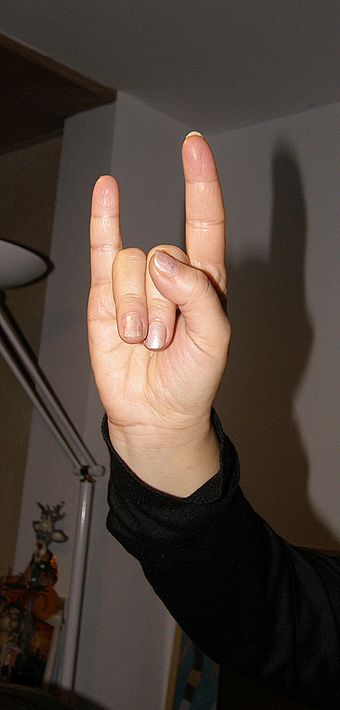 This is where things get weird. Gene's trademark is for this gesture.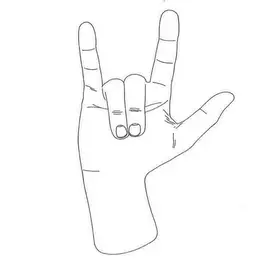 Notice the position of the thumb. According to Gene, this version of the horns first appeared in a commercial setting with KISS on November 14, 1974, on their Hotter Than Hell tour. Therefore, says Gene, as the originator of the gesture, he is entitled to file a trademark on its use, specifically for "entertainment, namely, live performances by a musical artist; personal appearances by a musical artist."
It'll be interesting to see how the Trademark Office handles the application. Not only does the inspection have to survive scrutiny over its true origins, it will have to contend with the annoyance that the gesture also means "I love you" in American Sign Language.
And then there's this troubling photo of John Lennon from 1966 on the cover of the "Eleanor Rigby" single.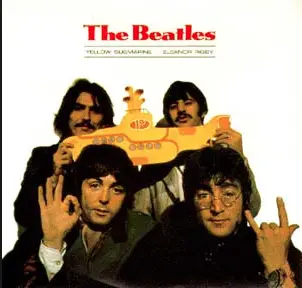 Meanwhile, Wendy Dio, Ronnie's widow, had this to say to The Wrap: (Via Tom)
"To try to make money off of something like this is disgusting," Dio told TheWrap. "It belongs to everyone; it doesn't belong to anyone. … It's a public domain; it shouldn't be trademarked."
Dio was quick to note that her husband — who fronted groups including Black Sabbath and Rainbow — shouldn't be credited with the gesture either. As she noted, the singer, who died in 2010, adopted the hand gesture from an old Italian sign that he picked up from his grandmother, which is used to either ward off evil or give the evil eye, depending on how it's employed.
Dio also noted that the rock band Coven used the hand gesture, as displayed on the cover of the group's 1969 debut album.
This could interesting. What's next? A trademark on sticking out your tongue as you play bass? Taking Polaroids of the women you've slept with? Using fire and other pyro in concert?
As my LA friend Pamela says, "Gene's a shark!"