The Final First-Week Sales Number for Adele's 25
I'll say it again: put aside anything you may think of Adele and her music. The narrative everyone should be following is the record-breaking performance of 25 in its first week in the stores. This is THE music industry story of the year. Maybe the decade. It's certainly one for the ages.
Last Friday–November 16, 2015–25 was simultaneously released in almost fifty countries around the world. Because it was being withheld from all the streaming music services, anyone who wanted it had to buy it.
Some thought that was foolish, reactionary and Luddite. "Who buys CDs anymore?" they cried. "This is career suicide!"
Well, no. Read on for the number chalked up by 25 in its first week in physical and digital stores.
This is the last update on this story. What more can be said?
Friday, November 27:
The Official Charts Company of the UK confirms that 25 has had the biggest opening week in history. They report that the album sold 800,307 copies, destroying the previous record held by Oasis's Be Here Now in 1997 when it moved 696,000 units. However, we must remember that BHN was released on a Thursday when the UK chart week ended on Sunday night. That means it sold 696,000 in just three days.
25 sold more copies than the next 86 albums on the UK album chart combined.
Britons bought 548,000 physical copies and 252,423 digital copies of 25.
Saturday, November 28:
Here are the official first-week sales numbers from the US as reported by Buzzangle:
Total first-week US sales: 3,327,992 units. Jeebus!
Physical album sales: 1,682,840 (51%)
Digital album sales: 1,645,152 (49%)
Note that either of the above totals alone would have made 25 the fourth-best selling first-week album of the last 15 years.
First day sales were 1.49 million. That's better than the first week sales of any album of the last fifteen years.
25 represented more than 67% of all sales on the Billboard Top 200.
25 represented more than 52% of sales of the top 1,000 albums in the US this week.
As if all of the above weren't enough, Adele's 21 album is back at #8 on the charts with sales of 33,485 units while 19 is at #15 with 19,860 copies.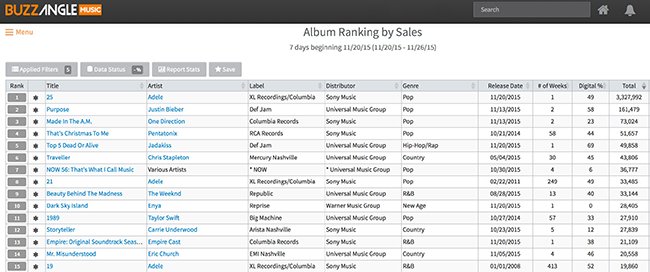 Here's a math problem. Assuming that Adele makes $2 for every copy of 25 sold, how many Spotify streams would be required to equal the profit from those sales?
3,327,992 x 2 = $6,655,984
Average payout per Spotify stream: $0.0084 (on the high end) and $0.006 (on the low end). Let's average things out at $0.0072 cents per stream.
6,655,984/0.0072 = 924,442,222 streams.
As I write this, the "Hello" video has 528,947,233 views. Keep in mind, though, that YouTube payouts are different than Spotify's, so we can't make a proper comparison.
Sunday, November 29
SoundScan's final numbers for the US put 25 at 3.48 million for its first week. That's a million more than the previous one-week record holder, *NYSC's No Strings Attached, which sold 2.4 million in its first week back in 2000.
Doing the math on the above, one in every 96 Americans bought a copy of 25. 
Doing more math, that's 42,000 copies an hour, 700 a minute or 12 a second.
Monday, November 30
The final number for Canada is 305,928, well ahead of the previous record-holder, Celine Dion, who had first week sales of 230,000 back in 1997.
By market, 25 sold like this: Toronto, 27,000 units; Montreal, 20,000; Vancouver, 20,000; Calgary, 19,000; Edmonton, 16,000; and Ottawa, 12,000.
Overall Canadian album sales were 45% higher than last week thanks to guess who?
Total album sales in Canada for the year are now at -1.5%, a huge improvement over where we were at this time last week. To move from -3% to -1.5% in just one week is a big deal.
Australian sales were more than 210,000In Germany, it was 263,000, the biggest one-week sales total in eight years.
Looking at the US SoundScan numbers, the gap between #1 (25) and #2 (Justin Bieber's Purpose) is 3,194,323 units. I'd say that's a comfortable margin of victory.
By this evening, 25 had moved 4 million copies in the US.
Need more numbers? Go here.
If you're looking for all there records she broke this week, go here.
The iTunes Story
Originally 25 reached the top of the iTunes charts in 116 of a possible 119 countries. Who is holding out? Niger (#7 as of Saturday night), Anguilla (#7) and Papua New Guinea (#2). Kyrgyzstan and Burkina-Faso, two of the countries shown in red in the infographic below, eventually fell to Adele. Countries in grey don't have iTunes. (Via NME)
And now, the analysis begins:
Slate: "How Adele makes middle-aged music cool for young people."