Get An Earful: Only Tears for Aretha at Riverfest
It goes without saying that we are in a time of heightened awareness when it comes to things like equal representation in music. One event that is leading the way in terms of women not being taken for granted on lineups usually dominated by men is Riverfest Elora; this week's #GetAnEarful playlist is devoted to the many homegrown female voices that will be heard over the course of August 17th through to the 19th. I can't continue, however, without acknowledging Aretha Franklin's passing. Of all the celebrities and fellow artists who commented on her, Win Butler may have said it best at Pukkelpop (as per Arcade Fire Tube): "Aretha Franklin is the actual greatest. Everyone else is a shadow." The Queen of Soul is sure to have an influence on the gathered mass in "Ontario's Most Beautiful Village", just like she had on each one of us throughout her career.
The term "Queen" is something that gets thrown around a lot these days, even towards Riverfest headliner Carly Rae Jepsen. I hereby decree it should be given to Aretha in perpetuity, but I'd be willing to allow CRJ another regally pop title as songs such as her "Run Away with Me" have graduated from simple guilty pleasures. I guess you could say I've really, really come to like her. Not as much as Weaves mind you with their powerhouse singer Jasmyn Burke. For whatever it's worth, I'm-a pullin' for Wide Open to take home this year's Polaris Music Prize.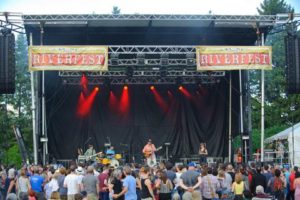 July Talk are the only top-billed band with vocals that aren't all uttered by dudes, graciously taking a break from recording Album #3 to bless the riverbanks with their positive presence. The dual-sex harmonies between spark plug Leah Fay and Peter Peter Dreimanis have clearly had an impact on up-and-comers Goodnight, Sunrise, who opened for Bon Jovi back in May. Please don't hold that against them.
Riverfest really runs the gamut of genre inclusivity – One minute you can be enjoying rootsy alt-country from Skydiggers alum Jessy Bell Smith, the next you're in a full-on mosh pit thanks to The Creepshow, channeling the psychobilly spirit of Poison Ivy and The Cramps. Rough Trade and Eric's Trip blazed trails in the '80s and '90s, respectively, and it's just so good to see icons Carole Pope and Julie Dorion still making music that rocks. They've definitely rubbed off on and nurtured a new generation, namely in the shapely form of The Beaches.
And I mean she's not Aretha, but Ariana Gillis can the heavenly notes that will evoke fond memories. Catch her Friday night set in the "Koop Tent" if you want to be metaphorically taken to church. Whatever your orientation or music tastes, get in on the sound splendor in postcard-perfect Elora. No crying of rivers allowed though!