Gift Idea: AC/DC Pinball Machine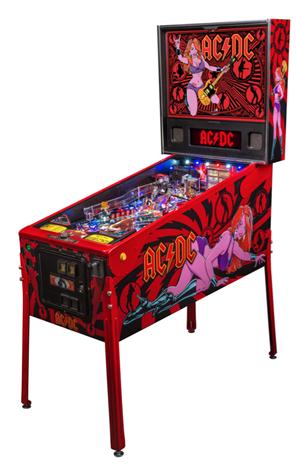 When I finally finish my basement, I want one of these. From the press release:
Stern Pinball, Inc., the world's leading maker of realpinball games and the American Amusement Machine Association ("AAMA") Manufacturer of the Year, today announced the availability of the AC/DC Luci Premium pinball machine. Based on Steve Ritchie's hit design, the latest addition to the AC/DC pinball lineup features an entirely new original artwork package that captures the titillating rock and roll spirit of AC/DC and AC/DC pinball.
Players will rock with Luci to twelve classic AC/DC hits including "Back in Black," "Highway to Hell" and "You Shook Me All Night Long." Other exciting game features include a lower playfield, ball-shooting cannon, drop targets, a mechanized Hell's Bell and animations of the band. This decidedly edgy tribute to one of rock and roll's most memorable bands pushes the visual and auditory limits with its style, sound and infectious riffs. Simply put: Luci rocks!
The price? Just $7,495. Maybe I won't get one. Continue reading. Specs can be found here.