Gift Idea: A Turntable That Weighs More Than Weights at the Gym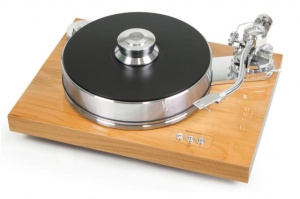 Pro-Ject makes some great turntables starting at around $400 CAD. But they also make some high-end stuff for the 1-percenters.
Case in point? The new Signature 10 which runs about $6,000 USD.  Why so dear?  Digital Trends explains:
Feast your eyes upon the Pro-Ject Signature 10, a 50-lb piece of vinyl-spinning awesome. If it sounded only half as good as it looks, we'd still want it. Of course, when it comes to turntables, beauty only gets you so far. Fortunately, the Signature 10 is loaded to the hilt with anti-resonance and anti-vibration measures — literally — to help make sure the sound it produces is in the purest form possible.
Browsing through the Signature 10's list of features is like taking a crash course in engineering — the terms are hard to decipher, but you walk away with the sense that Project took every opportunity it could to ensure each piece of this turntable remained as silent as possible. The plinth is made of MDF, which is loaded with metal mass; the shining platter is extra heavy, and made with a special TPE damping material to absorb halt resonant vibrations in their tracks; also part of the package are a magnetically decoupled platter, and a single pivot tone arm which, by the way, looks like it came from the T1000 android in Terminator 2.
And damn, it's pretty.  I'd have one–if I had $6,000 to spend on a record player. Read on.