Gig Flyers As Art and Social History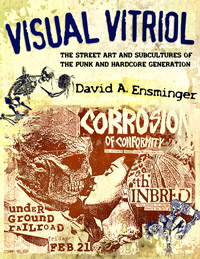 David Esminger has obviously spent a lot of time staring at utility poles, construction barriers and club walls.  Over the years, he's come to regard the graphics used on flyers to promote gigs as art.
Collecting the best of this stuff, he's published Visual Vitriol:  The Street Art and Subcultures of the Punk and Hardcore Generation.  As visual histories of these scenes go, it's more revealing that you might otherwise expect.
For example, this artwork offers some insight into the prescene of gays, lesbians, African-Americans, women and Latinos in these subcultures and how their influence affected certain aspects of music culture.