Gilda's Club NYC Fundraiser Offers Up Pink Vinyl
Ten bands/artists have reissued their albums or released new albums on pink vinyl in support of Ten Bands One Cause, an initiative which supports and raises money for Gilda's Club NYC, a non-profit organization that "provides community support for both those diagnosed with cancer and their caretakers". The organization is named after comedian Gilda Radner, who passed away from ovarian cancer in 1989 at the age of 43; and their mission is to "support, educate and empower cancer patients and their families".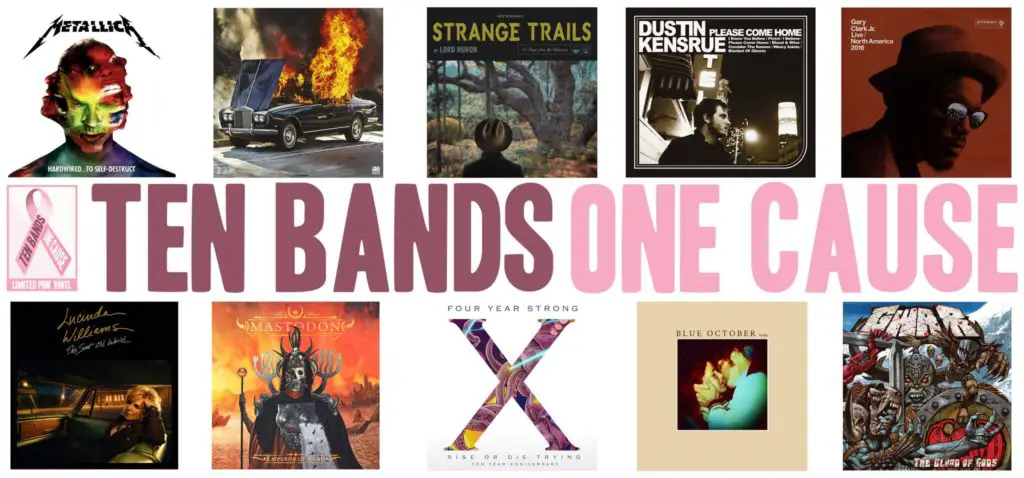 This is the fourth year for Ten Bands One Cause, which has raised over $144,000 for Gilda's Club NYC. The bands included in this year's initiative include Metallica, Portugal. The Man, Lord Huron, Dustin Kensrue, Gary Clark Jr, Lucinda Williams, Mastodon, Four Year Strong, Blue October and GWAR. Among the albums included are Metallica's Hardwired… to Self-Destruct; Portugal. The Man's Woodstock; and anniversary editions from Lucinda Williams, Four Year Strong, and Thrice's Dustin Kensrue.
In case you're wondering, the bands from last year's initiative included Red Hot Chili Peppers, Courtney Barnett, Pixies, My Chemical Romance, Anthrax, the Black Keys, Ed Sheeran, NOFX, Opeth, and Jim Breuer and the Loud & Rowdy.
This year's limited edition pink vinyl releases are available for purchase wherever vinyl is sold, at retailers nationwide, with proceeds to sponsor Gilda's Club NYC.
–Dorothy Lee