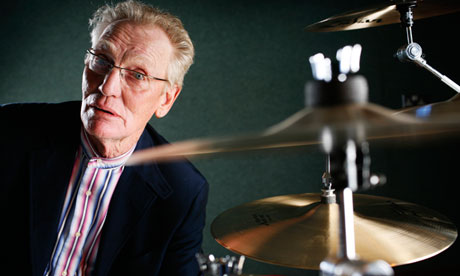 Ginger Baker is one of the UK's most famous drummer. As the timekeeper behind Eric Clapton and Jack Bruce in Cream, his place in rock'n'roll history has been assured for some time. Problem is that he's not a very nice man.
There's a new documentary called Beware of Mr. Baker which highlights his predilection for nastiness. Before a screening of the film, there was a live Q&A with a writer from The Guardian. It went…poorly. [VIDEO]
It was all downhill from the introduction. Our video omits most of the times Baker dismissed my questions, or raised his eyebrows in disgust. It omits the one-word answers, by and large. It omits his more withering reponses to questions from the audience. It leaves out the 15-second pause where I simply sat in silence, wishing the earth would swallow me whole. It leaves out Baker deciding he's had enough with the words "I want to go home now." You may able to note the one point where I have just about had enough, and my voice tightens and quickens while I ask another "silly question". It doesn't sound much on the video, but it was an effort of will to get a question out instead of telling him what I thought of his rudeness.
I've had plenty of interviews where things went all pear-shaped from the very beginning. Fortunately, I've never had the pleasure of talking to Mr. Baker. I think I'll steer clear, too. Read the whole story here.
Did I mention that Baker physically attacked the man who was making the documentary?