Godsmack: The Sully Erna Interview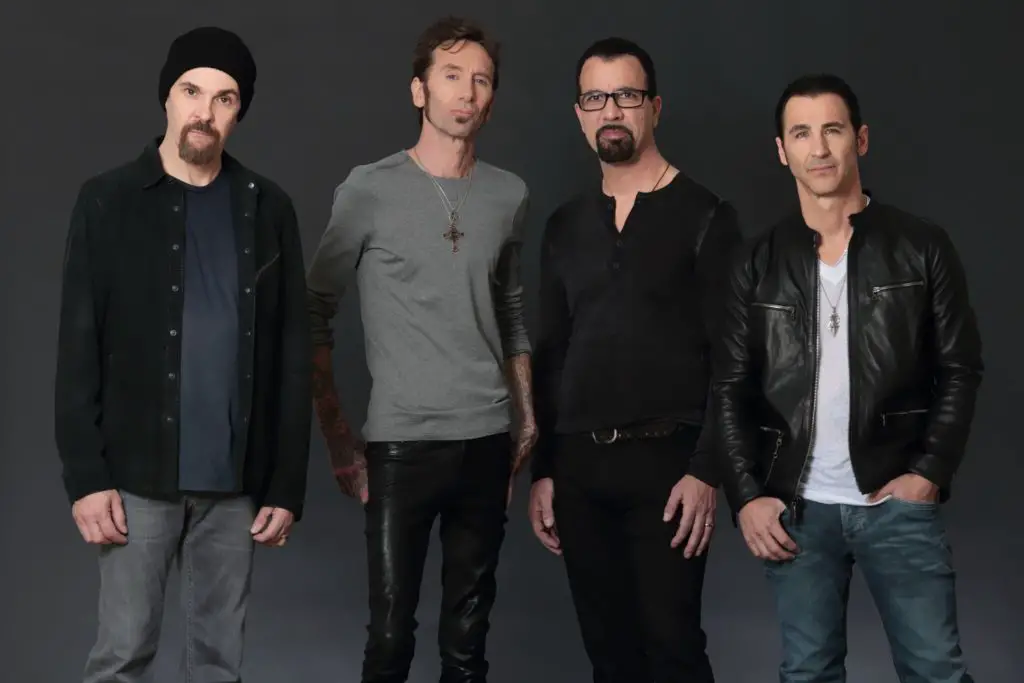 The chart-topping American metallers have a new album and a new big rock sound.
By Andrew Epstein www.zombitrol.com
Photo Courtesy of Looters/BMG
The story of the long-running American alternative metal act Godsmack, is one of consistency. In the last two decades they've released six albums, with three of them hitting number one at home. North of the border, their last two albums cracked the second spot on the national charts, their highest in Canada thus far. My point is that their formula seems to be working. So it's rather surprising to find the band going for a more hard rock sound on their new album When Legends Rise, which is out today. I spoke to band frontman Sully Erna, and described to him how I was caught off guard by their change of direction.
"The band never considered themselves a metal band," he says matter-of-factly.
"We kind of rode the line in the past, having some tracks that were a little bit on the metal edge. We've always just been a hard rock band, but obviously having written songs like 'Voodoo' and 'Serenity' from the early days, it really always left this door open, the lane to pursue if we wanted to. As we get older we have to grow with who we are as individuals, who we are as songwriters. For me especially as the main songwriter, I'm not the same angry kid I was when I wrote the first record."
Erna credits Sharon Osbourne and the Ozzfest tour, as well as their widely-broadcast set at Woodstock '99, for helping them initially break out to a wider audience. But it was their 2002 track "I Stand Alone," featured in Dwayne Johnson's first major film The Scorpion King, that would bring them worldwide attention. It was his experience writing that song, that pushed Erna into taking a chance on the direction of the new album.
"I thought back to when I first wrote 'I Stand Alone,' it was the first time that the band really shifted into a different kind of sound, and we started introducing harmonies, a little bit more melody in the choruses" he says.
"When that song was finished, I couldn't even tell if it was a good song or not because it was so different and unique from anything we had done. I would play it for my friends and for my manager and the response was all the same, 'I don't know, I think it's good!' We couldn't figure it out, and it turned out to be our biggest hit to date. It just proved to me, that whenever I hear something (and) I'm not sure if I can quite identify it, maybe that unique quality is what's going to make it successful and break us into yet another level we haven't accomplished yet."
After being encouraged by his bandmates, Erna took influence from his two solo albums which were collaboratively written with blues, classical, and jazz musicians.
"I wanted to take that process and that format and apply it to Godsmack because I felt like… maybe we can start developing something that's a little bit more unique, and not feel like we're writing the same record over and over again," he says cautiously.
"I'm not 'not proud' of the records we've written, it's part of the past. But we're in a new place in our lives right now, and we feel like there's a rebirth happening here. We want to try and take advantage of that and run with it, and see if we can open this up to a much bigger audience.
Erna's unabashed declaration of his desire to push his band to the front of mainstream rock is sincerely refreshing after you've heard hundreds of bands lie through their teeth and say the opposite. But despite his excitement for the new album, Erna is well aware that he may lose fans who prefer a "heavier" Godsmack.
"If they expect us to the sound like the Awake album then they're following the wrong band," he announces.
"But as I went through this process, it was a little bit nerve-wracking to me for a minute, because I knew it was going to be a different-sounding record. It did cross my mind, 'Have we gone too far here?' I spent time working with some outside writers because I wanted to hear someone who wasn't in the struggle, what they thought we could sound like. Just to experiment, not knowing if we would use it or not. To my surprise I stumbled onto some really cool stuff that I really enjoyed. It made me think outside the box for melody, songs like 'When Legends Rise.' I wrote that with (ex-Goldfinger singer/guitarist) John Feldmann who usually writes for Blink-182 and 5 Seconds of Summer. I don't categorize music in genres. I eliminated that a long time ago. I don't care if it's Migos, Justin Bieber, or Pantera, it's either a good song or a bad song. Led Zeppelin's probably the most prime example. Look at all the different styles of music that band performed, even though the majority of was a dark blues-rock, they had reggae sounds, they had country sounds. They explored the kinds of music they wanted to play."
When Legends Rise finds Erna's vocals in a particularly strong place. His love of the new material genuinely shines through in his performance, and it grounds the entire album. When someone says they want to make their music more accessible, it's rarely this passionate and sincere.
"There are different goals that I personally like to aspire towards, and I think there is a lot more of audience to hit out there," he says with an audible note of optimism.
"There's a reason why the Foo Fighters are doing stadiums and we're doing small arenas! (laughs) There's a lot more people out there that appreciate music and that I feel I'd like to be able to introduce them to Godsmack. There's a whole new generation who's grown up since we came out with our first record, and the same fans who were in their twenties are now in their forties and fifties, and have fifteen year-old kids of their own that are discovering Godsmack for the first time. We wanted to be able to write music that's accepted amongst the masses and amongst a much broader audience, because I'm a musician. I play five different instruments, I love to write music, compose, arrange. In the past it's been a struggle to separate, 'this is gonna be Godsmack, this is gonna be solo,' I just feel like there's a moment here to be able hybrid the two, and not lose the edge or the integrity of what we do with Godsmack."
Godsmack's new album When Legends Rise is out today, and you can listen to the title track below. They're also one of the headliners of Rockfest in Montebello, QC June 14 – 16.