Good Point: Many of Today's Pop Songs Are About ME, ME ME!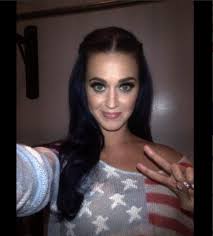 Andrew Romano of The Daily Beast has been listening to the radio a lot and he's noticed something about today's hits. The man has a point.
I like to call it Selfie Pop: the sonic equivalent of those smartphone self-portraits we take and upload to Instagram for all of our followers to ogle. Songs that are all aboutme, the singer, and/or you, the listener, and how we're going to overcome every obstacle we encounter because we're strong and beautiful and unique and empowered and we have really great self-esteem.
To get a sense of how odd Selfie Pop is, from a historical standpoint, try to imagine any of the bestselling acts of the 1960s, 1970s, 1980s, or even 1990s announcing, like Perry, that they have transformed "from zero to my own hero" or declaring that the world is "gonna hear me roar louder than a lion 'cause I am a champion."
It's basically impossible. The Beatles? No. Elvis? Please. Michael Jackson? Not quite. Sure, Madonna, Mariah Carey, and Whitney Houston may have sounded more Katy-Perryesque than, say, Led Zeppelin, The Eagles, or U2, but even they were too busy belting out lyrics about less narcissistic subjects—preaching papas, dreamlovers,dancing with somebody—to obsess over their own awesomeness all the time.
Thoughts?