Good Weekend Reading: Listening to Music in the Era of the Stream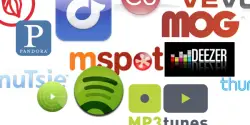 Give this article from The Atlantic a read. It raises some interesting points about how we consume music today.
[M]usic distribution is crazy these days. On one axis, there are competing business models: transactional ones like iTunes, in which you pay per song/album versus access models like Rdio/Spotify/Pandora, where you pay a monthly fee for the ability to play a library of music. On the other axis, there are new possibilities in music listening. Music fans can stick with albums or singles (the units of yore), create their own playlists, or stream computer-generated playlists of all kinds.
The classic behaviors of discovery, acquisition, and consumption are all being extended and mutated and monetized.