Google Glass and Uses in Music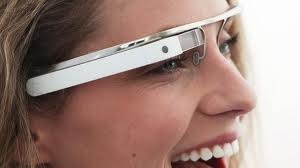 One of the things Michael Hainsworth and I discuss on this week's Geeks&Beats podcast (it'll be up tonight at midnight) are the possible uses for Google Glass when it comes to music. Here's one we didn't talk about. From the New York Times.
To sell Glass, its augmented-reality form of eyewear, Google has already tried to make it a fashion accessory and a must-have video device for any parent or sky diver. Now it is also presenting this $1,500 piece of wearable technology as a way to interact with music.
On Tuesday, Google will unveil a set of features for Glass to search for songs, scan through saved playlists and listen to music in high fidelity. This can all be done while a user is wearing the lensless frames, which respond to vocal commands and have a small computer and transparent projection screen above the right eye.
When Glass boots up, it will display "listen to" among its standard voice commands — like "take a picture" and search for a term on Google — and let a wearer name a song or artist and then stream that music through Play, Google's media and apps hub. Users can link their Play accounts to have access to playlists and song recommendations based on what they have listened to in the past.
Google is also introducing a set of earbud headphones designed for Glass, which will be available by the end of the month for $85. Sound Search, a feature introduced to Glass two months ago, acts like Shazam or SoundHound by identifying a song playing in the vicinity.
Cool, no? Keep reading.