Gord Downie Stage Gear Keychains a Massive Hit with Fans
If you saw any of the Tragically Hip's gigs over the summer, you'll know that Gord Downie sported some pretty, er, colourful metallic outfits. Those clothes were custom-made for Gord by Izzy Camilleri, who kept some material back, just in case the seven different outfits needed repairs or alternations.
Gord named each outfit after someone who helped him prepare for the Man Machine Poem tour.
Gold: Hip guitarist Paul Langlois
Silver: Patrick Downie, Gord's brother
Turquoise: Edgar Downie, Gord's father, who died last year.
Green: Jenn, Gord's assistant
Purple: Prince
Mirror Ball: David Bowie
Pink: Isabel
When the tour ended in Kingston in August, she found that she had a fair number of scraps leftover. Rather than toss all of it away, she fashioned the scraps into keychains.There were enough for 1,000 copies, all shaped like guitars.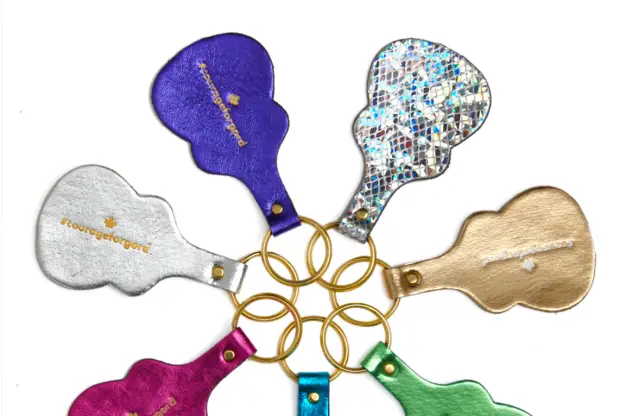 All 1,000 copies went up for sale for $25 each on the CourageForGord website this past Friday (December 16). All were gone in a matter of hours. The money raised will head to Sunnybrook's Gord Downie Fund for Brain Cancer Research.
But wait. There's more.
Camilleri also created two leather jackets, one in pink and another in silver. They're currently up for auction with bids being accepted until January 1.