Great. Someone is Already Trying to Draw a Link Between Music and a School Shooting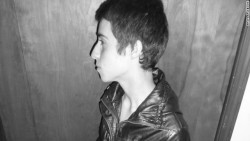 Those snooping around the life of TJ Lane, the alleged shooter in the Chardon High School shooting, apparently found Facebook entries where he shared links to Grimes, the indie flavour du jour and Blood on the Dance Floor, a band the fire-and-brimstone website Christwire calls "the most vile music band in human history."
The cause-and-effect equation hinted at in the CNN story is once again Troubled Kid + Music = Heinous Act. From here it's a simple leap to blame the music for the kid's actions. I'm sure Christwire will want to scream down that road.
Please. This is the same argument that we've heard again and again to Columbine and beyond. That a troubled kid would seek solace in music is perfectly normal. Hell, we all do it. But let's not start rooting out boogiemen where they don't exist. Kids who engage in horrible acts like this have more issues than just the music they like.
Let's not go there, okay? There are much more serious and relevant questions that need to be asked.