Green Day landed on Mars Monday. Sort of.
Scientists, engineers, exobiologists, and fans of space exploration didn't breath for six-and-a-half minutes yesterday (November 26) as the $1 billion Mars InSight probe slowed from an orbital speed of 19,000 kph to a gentle touchdown on Elysium Planitia. Dozens of things had to go right during the complicated descent. But it all worked. InSight sent a selfie to confirm everything was all right.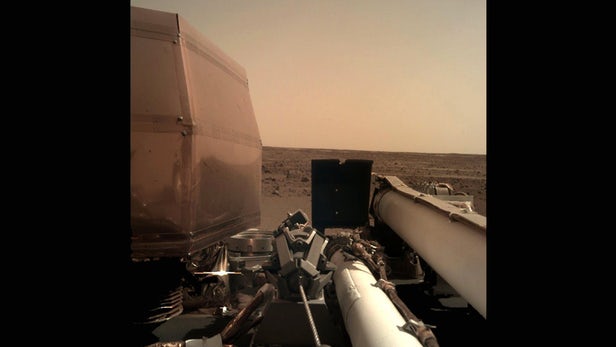 The three guys in Green Day were holding their breath, too, because the band had a hitherto unknown stake in the mission. I'm sure they're interested in the seismology and drilling experiments Interior Exploration using Seismic Investigations, Geodesy and Heat Transport (that's what InSight stands for), but they were pumped with actually having a tiny, tiny piece of the band on Mars.
Officially landed on Mars ??? "Green Day Since 1986" was etched on a chip on the @NASAInSight Mars Lander that landed at Elysium Planitia today. Out of this world. pic.twitter.com/WwNEKh4nxE

— Green Day (@GreenDay) November 26, 2018
The little chip–noted as a "boarding pass"–is etched with "GREEN DAY since 1986" along with the dates of InSight's launch (May 2, 2018) and arrival (November 26, 2018) and the rocket booster used (Atlas V 401). Obviously, Green Day has some connections/fans inside NASA. We should all be so lucky, no?