Guess What? Morrissey Hates the Olympics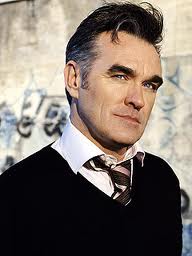 From the Morrissey zine, True to You:
I am unable to watch the Olympics due to the blustering jingoism that drenches the event. Has England ever been quite so foul with patriotism? The "dazzling royals" have, quite naturally, hi-jacked the Olympics for their own empirical needs, and no oppositional voice is allowed in the free press. It is lethal to witness. As London is suddenly promoted as a super-wealth brand, the England outside London shivers beneath cutbacks, tight circumstances and economic disasters.

Meanwhile the British media present 24-hour coverage of the "dazzling royals", laughing as they lavishly spend, as if such coverage is certain to make British society feel fully whole. In 2012, the British public is evidently assumed to be undersized pigmies, scarcely able to formulate thought.
For more deep thoughts from the Mozzer, go here.