Guest Blog: Music Festivals Around the World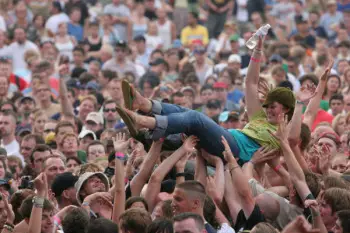 [As the 2013 concert season winds down, you might be thinking ahead to shows and festivals coming up next year. Mark Harris from The Inspired Traveler offers these tips. – AC]
Music festivals have been a traditional way of meeting and connecting with people from around the world for several generations. Through the international language of music, they unite like-minded souls across language, culture and age groups. They provide unforgettable experiences and encompass a diverse range of musical styles, from electronica and rock to folk and bluegrass.
Glastonbury, UK
One of the longest-running music festivals in the world, Glastonbury started in 1970. Despite its reputation for sometimes having muddy fields, this festival, held annually (with a couple of exceptions) at the end of June, traditionally marks the start of summer for many students and music lovers in the UK. Every year more than 700 acts perform, from huge headliners to tiny fringe acts.
Exit (Novi Sad, Serbia)
What was started in 2000 by three students as a protest against the oppressive Serbian regime, the electronic Exit festival is now attended by some 200,000 techno music-loving partygoers, and is set in the grounds of the 18th-century Petrovaradin Fortress.
Roskilde, Denmark
The biggest summer music festival in northern Europe has been running since 1971 and is known for its big-name acts – Bob Marley and Bob Dylan have both played there – as well as its nudity (the 'naked run' is a popular feature of the festival, though you're welcome to keep your clothes on).
Bonnaroo (Tennessee, US)
In 2008, the Bonnaroo festival won Rolling Stone magazine's award for best festival. Located just outside of Nashville, past performers have ranged from Bruce Springsteen to Snoop Dogg, as well as stand-up comedy acts and even a 'silent disco', where guests dance to music on their own headphones.
Iceland Airwaves (Reykjavík, Iceland)
Surprisingly, this festival in the extreme north is held in late October, making it the coolest festival of alternative names in the electronic scene anywhere. Attended by as many foreigners as locals, it's helped to put Iceland on the hipster map.
Sziget (Budapest, Hungary)
Started in the early '90s after the fall of communism, the Sziget festival is noted throughout Europe, and attracted many UK visitors in 2012, helping fill the gap when Glastonbury festival was not held. It takes place on an island in the middle of the Danube in the center of the Hungarian capital, and attracts big-name international acts and crowds upwards of 300,000.
Mawazine (Rabat, Morocco)
In 2013, around 2.5 million people attended this massive African music festival, yet it's still fairly unheard of in the US. With a line up of about 90 acts – mostly French-African – spread over seven stages, international artists make regular performances, including 2013s headliner, Rihanna.
THISDAY (Lagos, Nigeria)
Named after the newspaper run by the festival's creator Nduka Obaigbena and started initially to mark the 200th anniversary of the end of slavery, Obaigbena sees the festival as a way to highlight positive progress being made across Africa. This huge music and fashion festival attracts international names including Usher, Rihanna and Jay-Z.
Tips for travelling to the festival
Getting to a festival on the other side of the world presents a challenge – but also the opportunity to see a new country and have unforgettable adventures. Don't leave the important details, like getting there, to chance: get GPS coordinates, road maps and festival tickets before you leave.
Google flights to get the best deals, and check out local transport options for getting you to the site. For anyone travelling in groups, hiring a car is one possibility and the opportunity of a road trip is always worth considering.
This post has been written by Mark Harris, he loves travel, the outdoors and anything music related.