Guitar gear history: The talk box
[Dalton Ellison is a radio dude in Illinois who has a fascination in outboard music gear. He's working on a series called Shaping the Sound, which looks at the equipment that takes the sound of a musical instrument to whole new levels. – AC]
As listeners, we can identify some of our favourite musicians in rock music by just the tone they emit from their instrument. Jimi Hendrix had his signature fuzz and wah pedal combination while Tom Morello from Rage Against The Machine modulates his guitar with effects to create his unique sound. However, artists from the likes of Joe Perry, Peter Frampton, and Joe Walsh can be identified by their use of one unique effect module known as the Talk Box.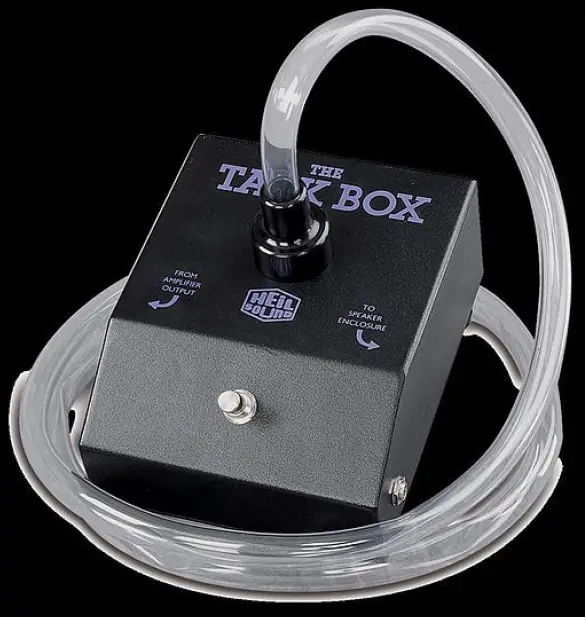 Through the innovation of artists and audio engineers alike, the Talk Box has risen from humble beginnings to become one of rock music's most utilized assets. For those who have ever wondered how or when this contraption came to be, search no further. Here's a deeper look into the creation, reincarnations, and utilization of one of the most distinct sounds in rock music: the Talk Box.
To begin, we first have to travel back to the year 1939. A new and intriguing creation has made radio a secondary means of access to entertainment and information, and that is the television. In an attempt to spark people's interest, one radio performer by the name of Alvino Ray laid the framework that contemporary Talk Boxes would continue to improve off of. By wiring a carbon throat microphone, an instrument used in cross-communication amongst military personnel during World War I, to his pedal steel guitar his wife could then place the mic up against her vocal chords. She would then use the harmonic vibrations created by the steel guitar to resonate outwardly while she simply mouthed the words. This created a sound unlike anything that had been heard before, and people began to gather around radios and television's to listen to Alvino Ray's unique invention.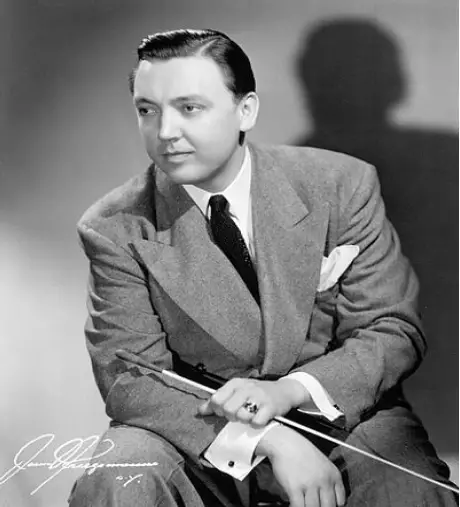 Noticing the attention Alvino Ray's "Instrument Vocalizer" was receiving amongst radio audiences, a man by the name of Gilbert Wright began work on his own. He saw room for improvement by aiming for a finished sound that was clearer than what Ray's creation offered and more dynamic in the frequency range that it could be modulated. To achieve this, Wright removed the pedal steel guitar and instead designed series of small transducers that the performer would apply on their neck against their vocal cords. These transducers would resonate through the vocal cords and out of a vocalists mouth similar to Rey's invention, but at different and precise frequencies creating a clearer unique sound.
Although Wright had achieved the result he had hoped for, it would be another twenty years before the Talk Box began to take shape into the contemporary design we are familiar with today. It happened when a talented pedal steel guitarist by the name of Pete Drake saw the potential that Alvino Rey's earlier Talk Box prototype possessed, and began assembling and testing his own models. Over this twenty-year period, Drake had developed an over the shoulder style talk box that incorporated the use of a coned compression driver; however, the modulated signal output came directly from the cone and limited it to solely being used in a recording studio situation.
Nevertheless, Drake's prototype sounded extremely unique and quite literally 'set the tone' for his album "Forever" which was created and released in Nashville, Tennessee in 1964 opening the door to an entirely new industry for Talk Box technology.
Just five years later, the Talk Box we recognize in it's more modern designs hit the market. This moment came when Kustom Electronics filed the first patent for their new creation while coining the term "Talk Box" in 1969, and originally marketed it under the moniker of "The Bag". Kustom's revolutionary Talk Box was designed by Doug Forbes and boasted the key feature that we still see today known as the projection tube. This allowed the signal to be amplified through the musician's vocal microphone and removed the stigma that Talk Boxes were only meant for studio recording situations. Interestingly, Forbes actually modelled his talk box of off a patent he had previously filed for an artificial larynx.
An example of this talk box being used outside the confines of a studio can be found on a few separate recordings. Most prominent would be the work of the band Steppenwolf. They frequently used Kustom's groundbreaking technology in the studio and while touring between 1969 and 1972. More precisely, we can hear Kustom's Talk Box being featured on the album "Steppenwolf Live" with the track "From Here To There Eventually" which was recorded in January of 1970.
Unfortunately for Kustom, all good things come to an end and their Talk Box design had just two years on the market before the most revered and sought after Talk Box creation was released. Designed by Bob Heil in 1971, the Heil High Powered Talk Box demolished all other competition, and some audio engineers will say that this instrument vocalizer is the one that all others are modelled after. The key features that put Heil's Talk Box ahead of all others were the moulded metal housing that was able to be placed at feet of performers alongside their other effects pedals. More importantly was the 250-watt JBL compression driver that, once installed, sent a crisp and well-rounded tone that was sure to be heard over any competitors.
It then became the common practice that Heil's creation was the industry standard for touring and recording musicians for the years that followed, and in 1988 Dunlop purchased the rights to Heil's design. As a matter of fact, Dunlop still manufactures their talk boxes to many of the same specifications to this day. To prove the Heil High Powered Talk Boxes ability to perform ahead of all others, one of the earliest prototypes can be heard on the studio recording of "Rocky Mountain Way" which was released in 1973 on Joe Walsh's album "The Smoker You Drink, The Player You Get".
In reviewing the legacy of the Talk Box from it's earliest designs on to it's most contemporary incarnations, we can hear countless numbers of musicians, radio and television broadcasters, and audio engineers that have utilized Talk Box technology. Some musicians like Peter Frampton have managed to become ambiguous with use of a Talk Box, while some have managed to utilize this technology sparingly to create some of their most notable tracks.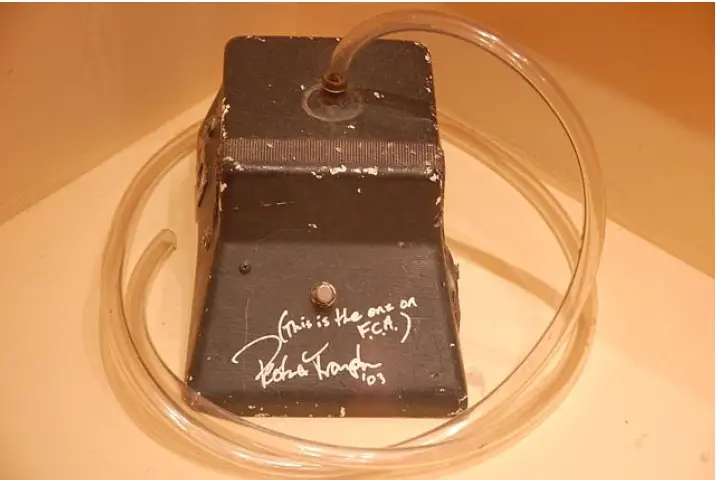 One thing is certain, Talk Boxes still have their place in contemporary music, and if you listen closely you may be surprised where they'll turn up.