Guitarist Robert Fripp on "The Day the Music Died" (No, Not That One)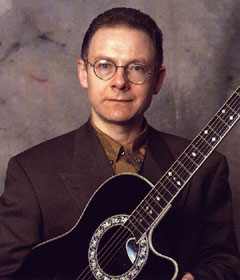 Robert Fripp (King Crimson, Bowie, David Byrne, Peter Gabriel, League of Gentlemen, Brian Eno, Blondie, Van der Graaf Generator, etc etc.) doesn't give many interviews so when this turned up in (of all places) The Financial Times, I wonder how many fans spotted it?
"My life has improved so much since I stopped doing interviews," Robert Fripp says. So why is the prog rock legend and guitar maestro giving us his first print interview in seven years?
One reason is that he's a reader: FT Weekend is the only paper he takes. The other reason is more complicated. The King Crimson leader is in a period of professional turmoil. He has stopped making music and doesn't know when he might resume. "My life as a professional musician," he tells me, "is a joyless exercise in futility."