Guns Don't Kill People, Headphones Do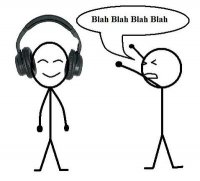 From the Dept. of Duh comes a new study from the University of Maryland that cites listening to music through headphones as a good way to get yourself killed.
The problem lies with "inattentional blindness," which is a fancy way of saying "you were so into the music that you had no idea what was going on around you and you ended up getting yourself killed, you dumbass."
The researchers poured through mountains of accident statistics from across the US and published the results in a British journal called Injury Prevention.
Here are the highlights:
The number of American pedestrians killed or badly injured while wearing headphones has tripled in six years. (Yes, that sounds ominous, but the numbers are still small: from 16 in 2004 to 47 in 2011. Add 'em all up and you still only have 116 incidents in a nation of 300 million. Still…)
Two-thirds of the people involved were males under 30. (No surprise. Which demographic is the heaviest user of headphones?)
More than half the incidents involved people who were run down by trains. (Wait–what? What were you doing so you could get yourself hit by a train? Darwinism.)