Guns 'N Roses: It's Come to This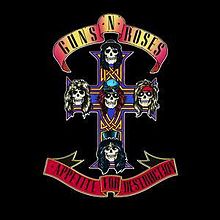 Remember when GnR was the most dangerous band in rock? Not so much anymore:
Item: Axel's Guns has agreed to a Las Vegas residency, just like we've seen from Celine Dion, Elton John and Fat Elvis. To celebrate the 25th anniversary of Appetite of Desstruction, this 12-night run at the Hard Rock Hotel and Casino will be billed as Appetite for Democracy.
Let's see (a) how many shows start on time; (b) how many shows get cancelled; and (c) how many fights/riots Axel will start.
Item: Slash has expressed an interest in appearing on Sesame Street. No kidding.