Guns 'N Roses Return with an LA Club Show Tonight! (NOT an April Fool's Gag.) Toronto Show Details, Too.
Guns 'N Roses–well, Axl, Slash and Duff, anyway–will play a show at the Troubadour on Santa Monica Bvld tonight, a gig that bumped a previously-scheduled Steve Adler show (Hmm….). Here's the press release–which, by the way, was accompanied by the message "There are NO guest lists!" No shit.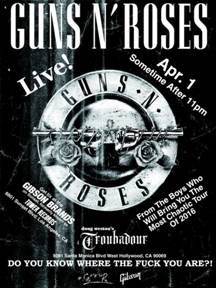 The most anticipated music event of the millennium is set!  Guns N' Roses will play their FIRST live gig of 2016 on the hallowed ground where they started, The Troubadour, TONIGHT, Friday, April 1.  Doors at 10pm!
Limited tickets are available for purchase beginning at 12pm PT at Gibson Brands on Sunset (formerly Tower Records) located at the old Tower Records store at 8801 Sunset Blvd.  GNR have gone back to retro pricing with tickets at $10, limit one per person. CASH ONLY!   Purchasers will receive a non-transferable wrist band at point of sale.
While in the queue, fans are invited to start the celebratory day with a trip down memory lane in the venue where Slash used to work (GNR amateur historians also know Axl worked across the street at the now defunct Tower Video), as the old Tower store will be transformed into a complete interactive GNR experience with a memorabilia exhibit curated by Blaine Halvorson, designer of MadeWorn.  The exhibit opens at 12pm and will include historic items such as members' classic attire, original artwork, personal awards and more.
Additionally, GNR exclusive merchandiser, Bravado will be onsite with a pop up shop featuring exclusive merchandise to celebrate the April 1 Troubadour appearance.
I love the showtime listing "Sometime after 11pm." Any bets on when Axl with deign to grace the crowd with his presence? What's the over/under? 2am?
Michael points out that this marks the end of  Gunners drought (well, Axl, Slash and Duff, anyway) that has run 22 years, 8 months and 15 days.
The Toronto stop on the Not in This Lifetime Tour will be Saturday, July 16 at the Rogers Centre. Tickets will go on sale next Friday–that's April 8–at the usual places. The release sales "Show: 8pm." Hah.
GUNS N' ROSES RETURN FOR HISTORIC
NORTH AMERICAN SUMMER STADIUM TOUR
– Founder Axl Rose and Former Members, Slash and Duff McKagan, Regroup For The 'Not In This Lifetime Tour' Produced by Live Nation –
– Dates Confirmed In New York City, San Francisco, Chicago, Toronto, Boston, Washington DC, Philadelphia and More –
– Tickets On Sale April 8 at 10:00 AM at LiveNation.com –
LOS ANGELES (April 1, 2016) – Following months of intense rumor, speculation and feverish excitement from rock music fans around the world, Guns N' Roses confirmed today they will embark on a massive North American summer stadium tour as founder Axl Rose and former members, Slash and Duff McKagan regroup for what will be one of the century's most anticipated musical events. The news follows their previously announced headlining dates at this year's Coachella Music & Arts Festival. The Not In This Lifetime Tour, produced and promoted exclusively by Live Nation, will see the iconic band headline stadium dates throughout the U.S. and Canada starting in Detroit at Ford Field on Thursday, June 23 and will include shows in New York City, San Francisco, Chicago, Toronto, Washington DC, Philadelphia and more. A full list of tour dates is below. In a special preview, Axl, Slash and Duff will return to the stage tonight at The Troubadour in Los Angeles where the band launched their ground-breaking career.
Nightrain official GN'R fan club members will be notified via email with an early presale opportunity.
Following the group's 1985 formation, Guns N' Roses injected unbridled, unrivaled, and unstoppable attitude into the burgeoning Los Angeles rock scene. The spirit went on to captivate the entire world with the release of their 1987 debut Appetite for Destruction –the best-selling U.S. debut ever, moving 30 million copies globally. In 1991, the seven-time platinum Use Your Illusion I and Use Your Illusion II occupied the top two spots of the Billboard Top 200 upon release. Over the course of the past decade, Guns N' Roses have performed sold out shows and headlined festivals worldwide following the critically acclaimed release of 2008's RIAA platinum-certified Chinese Democracy. Six studio albums later, Guns N' Roses are one of the most important and influential acts in music history and continue to set the benchmark for live performances connecting with millions of fans across the globe.
www.gunsnroses.com
#GnFnR
GUNS N' ROSES NORTH AMERICAN SUMMER STADIUM TOUR
All dates, cities and venues below subject to change.
Thursday, June 23, 2016 Detroit, MI Ford Field
Sunday, June 26, 2016 Washington, DC FEDEXFIELD
Wednesday, June 29, 2016 Kansas City, MO Arrowhead Stadium
Friday, July 1, 2016 Chicago, IL Soldier Field
Wednesday, July 6, 2016 Cincinnati, OH Paul Brown Stadium
Saturday, July 9, 2016 Nashville, TN Nissan Stadium
Tuesday, July 12, 2016 Pittsburgh, PA Heinz Field
Thursday, July 14, 2016 Philadelphia, PA Lincoln Financial Field
Saturday, July 16, 2016 Toronto, ON Rogers Centre
Tuesday, July 19, 2016 Foxboro, MA Gillette Stadium
Saturday, July 23, 2016 East Rutherford, NJ MetLife Stadium
Wednesday, July 27, 2016 Atlanta, GA Georgia Dome
Friday, July 29, 2016 Orlando, FL Orlando Citrus Bowl
Sunday, July 31, 2016 New Orleans, LA Mercedes-Benz Superdome
Wednesday, August 3, 2016 Arlington, TX AT&T Stadium
Friday, August 5, 2016 Houston, TX NRG Stadium
Tuesday, August 9, 2016 San Francisco, CA AT&T Park
Friday, August 12, 2016 Seattle, WA CenturyLink Field
Monday, August 15, 2016 Glendale, AZ University of Phoenix Stadium
Monday, August 22, 2016 San Diego, CA Qualcomm Stadium