This Guy Is Touring with the World's Biggest Drum Kit
All drummers know Terry Bozzio. As part of Frank Zappa's posse, he was required to play some extraordinarily complex charts. He ranks right up there with the Neil Pearts and John Bonhams of the world, albeit with less mainstream cachet.
Terry's about to go on a world solo tour with "the world's largest tuned drum and percussion set." It's, um, well…big.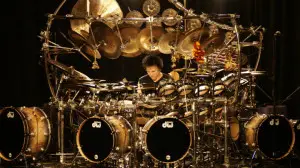 And unlike other so-called "biggest drumsets in the world," this one wasn't constructed for show or as some kind of one-off.  He plays this thing every single night.  I wouldn't want to be his roadie. Roadies.
Rolling Stone has an interview with him here.