Happy Record Store Day! Here's Some Essential Reading and Watching
Or is it "Merry Record Store Day?" I can never remember.  If you're out shopping and communing with other music nerds today, here are a few things you can talk about.
1. First, a word from your 2015 Record Store Day Ambassador, Dave Grohl. Note that at the time he bought his first record, K-Tel was headquartered in Winnipeg.
Dave also has this story on his daughter's fascination with vinyl.
"I remember introducing my nine-year-old to vinyl," Dave told USA Today. "She was really into The Beatles, and I got her this Beatles vinyl box set. She looked at it and said, 'What is that?' And I said, 'This is Beatles vinyl. These are The Beatles' records.' I was like, 'Here, let me show you how to do it,' and she was fascinated.
"It was like a toy to her, but she was listening to music and experiencing it the way I did when I was her age. I walked out of the room and came back half an hour later, and all the record covers were all over the floor and she was listening to album after album, and reading the lyrics, and looking at the sleeves and the pictures."
2. Vinyl sales continue to surge. In fact, vinyl is the best performing area of the retail recorded music industry in terms of year-over-year growth.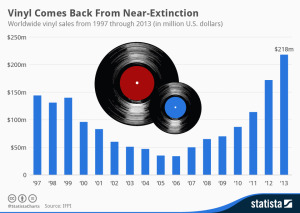 3. The guys at Banger Films talk to people about the joys of record shopping.
4. There are people who believe that even in the era of a la carte digital downloads and streaming that the album will never die. From The Atlantic:
If the album isn't quite as dead as so many people have proclaimed it to be over the years, then at least it seems safe to say that it's in trouble. In 2014, only one album, Taylor Swift's 1989, sold more than a million copies. For many people, playlists, Pandora, and individual song streams and downloads have become the dominant ways of consuming music. Artists both large and small have responded by releasing tracks in piecemeal fashion onto Soundcloud or iTunes, or by dumping out 20+ song "deluxe editions"—available for free right alongside the regular editions on streaming services—that defy the notion of a contained, cohesive statement. And why not? With digital revenue outpacing CD sales as of last year, the physical constraints that led to the historical period when "the album" ruled—the time limit per disk, the brick-and-mortar distribution—are falling away.
And yet: Albums–really album-y albums–with careful sequencing, integral cover art and recurring themes–keep getting made.
6. What are people buying on vinyl these days? (More graphics at Visual News. Thanks to Jim for this link.)
7. So: what else to look for? The Toronto Sun has this list while Now Magazine offers this one.
8. Finally, don't miss my ten questions with Nick Kopp of Kops Records in Toronto.