Are You a Hardcore U2 Fan Who Wants to Track Them On Tour? There's an App for That
From the people at U2TOURFANS:
For the past 30 years, U2 has served as an innovator in everything from rock music to human-rights activism — and has built a large, devoted fan base in the process. U2 TOUR FANS has developed the next generation of fan interaction. Fans can truly connect with other fans around the world and immerse themselves in the music, videos and images of U2's iNNOCENCE + eXPERIENCE Tour, which starts in May 2015.
U2 TOUR FANS has been a premier fan based community based on the 360 concept of connecting social communities into one simple easy to use platform. A media-sharing application that would allow fans worldwide to engage in the band's latest release and concert tour. The challenge was to develop a interactive and highly visual application that would allow fans to connect to each other no matter what show they attended and to bring the fan closer to other fans giving them the connected community experience without limiting the connected functions of the application. This mobile application allows fans to connect to other fans and create communities within the community.
U2 fans to preview and buy any of U2 albums released, access tour information; post concert videos, photos and receive band-related news feeds. Two features that stand out are the U2 radio and the U2 mobile image. U2 Radio allows U2 fans to enjoy 24 hour U2 music not only albums the station includes concert audio from recorded past shows. The mobile image allows U2 fans to send their photos directly to U2TOURFANS servers for posting within the shared community.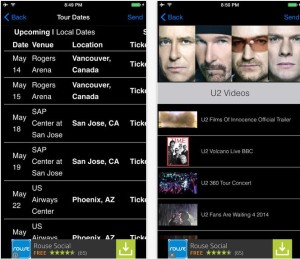 This custom software is available today only on the Apple platform. U2 fans have always enjoyed an immersive visual experience within the U2TOURFANS platform this application is a natural extension of the desktop experience. Get it here.