Has It REALLY Been 22 Years Since Oasis Played Knebworth?
Thank you to whoever runs Oasis' Twitter for reminding me how old I'm becoming.
Today marks 22 years since night 1 of Oasis' legendary Knebworth gigs.
More than 4% per cent of the population (c. 2.5M) applied for tickets, with 250K fans watching the band over 2 nights!https://t.co/4h2JKQglKh

— Oasis (@oasis) August 10, 2018
If you haven't seen Mat Whitecross' excellent rockumentary Oasis: Supersonic, I suggest you get right on that, mate. It's on Netflix, so you're welcome for me making your weekend viewing plans. Here's part of a seven thumbs up review I did upon its release in 2016: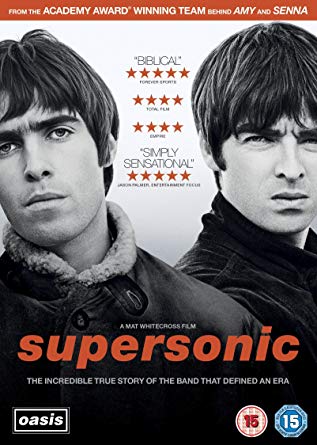 Lifelong sibling rivals Liam and Noel Gallagher went from common-or-garden Manchester City footy fans to bandmates in the world's most popular group before either of them could say "Knebworth". That's where the doc opens and closes, the southern countryside location where Oasis famously played to 250,000 of their compatriots over two days in August of 1996.
While it was as iconic a moment anyone could hope to achieve in music, it didn't come without a good amount of bumps and bruises along the way. Literally.
Through the use of freshly-recorded audio interviews with the battlin' brothers, their mum Peggy, original members Bonehead, Guigsy, and even punted drummer Tony McCarroll, Oasis: Supersonic looks back at the glorious period between Noel agreeing to join the former Rain as songwriter, set to archival footage right up until the fireworks celebration that sent everyone home happy at Knebwoth's conclusion. And sometimes not even in anger! Listen, with the number of hits the supposed "potato" has under his belt, I could have made this nothing but nonstop Oasis lyric puns. Seriously though, no one makes guitar-leaning, test-of-time-standing albums any longer in the manner of Definitely Maybe and (What's the Story) Morning Glory?. Despite the fact Whitecross wasn't quite able to get the Gallagher boys reminiscing at the same time together in the same place (he's a filmmaker, not a miracle worker), where his doc triumphs is how they seamlessly agree on the importance of chronicling this era in history, however whirlwind-like and retrospectively fleeting it may have been.
All parties involved see eye to eye that no matter what's happened in the years since, Oasis' Mach-force trajectory was a once-in-a-lifetime phenomenon that will arguably never repeat itself. The closest rock-based example I can think of is Arctic Monkeys; I won't go down the road of reality TV creations such as One Direction, who weren't singled out although the concept of manufacturing success certainly was. As an admitted enthusiast, I appreciated the well-deserved love Alan McGee and Creation Records got for discovering Oasis and nurturing their talent organically. Mind you, it's tempered with curse-filled boasts by the lads about how they were destined to become rockstars and started to believe in their own press clippings. Anyone with a passing knowledge of the Gallaghers shouldn't be shocked by this yobbish behaviour. If you are, perhaps you'd be better suited for something more sugar-coated…perhaps The Beatles: Eight Days a Week. Liam and Noel have never made any bones regarding the Fab Four's influence on them, but what legitimately surprised me was how there wasn't a single utterance of the term "Britpop" over the course of the 2-hour biopic. As if Blur, Pulp, and other bands had nothing to do with helping propagate Oasis' popularity, especially on their side of the pond. Phil Collins and Sting were disparagingly name-dropped as bigger threats on route to the top of the heath.
A familiar theme in music-related films I've seen recently (Kurt Cobain: Montage of Heck, Gimme Danger, and so on) is how the high of performing live in front of adoring fans is more intoxicating and addictive than any drug. Well, with the possible exception of the crystal meth everyone in Oasis took before their first US show at the infamous Whisky a Go Go. The question that begs to be answered therefore is what will it ultimately take to get Liam and Noel Gallagher to put aside their squabbles for a reunion tour or another album together. If they're not holding their proverbial cards close to the vest, that's some mighty strong contemptuousness for one another. Makes you wonder how deep the capacity to hold grudges can get…
Blood apparently isn't thicker than water, and that's the real shame here. Jeebus, just reunite already you blokes!
They'll always have that 5-year run, wonderwallfully summarized in Oasis: Supersonic. Oh, and here are the songs they played those two memorable nights.