Have iPod Docks and Their Ilk Replaced the Old-School HiFi?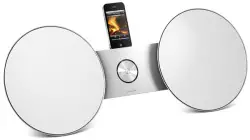 Bang and Olufsen BeoSound 8It's true.  People are ditching big stereos with honkin' speakers for little things to which you connect your iPod.  And while most people opt for cheaper units, there's a growing number of high-end iPod docks that sound pretty damn good.
But this isn't the case everywhere in the world.  I was asked to be part of an expert focus group at the transmitCHINA conference a few days ago where the manufacturer of a multiroom audio system wanted ideas as to how penetrate the Chinese market.
There was much discussion until a well-spoken Chinese man spoke up.  
"You're all wrong," he said.  "In China, people want to show off their success.  Those who can afford such a system don't want it to be hidden.  They want speakers the size of refrigerators to go with their 10,000 square-ft marble-floored houses.  A middle-class person will want the same.  Meanwhile, the 800 million farmers who aspire to be rich don't need multiroom sound units because they live in one-room houses.  This product won't work in China."