Have You Heard of the "Bono is a Pox" Meme?
There are two types of people in this world: those who believe Bono is a musical genius and a wonderful humanitarian and those who think he's a hypocritical pompous prat. And a surprising number of those in the second group live in Ireland.
But this being the land of James Joyce, the Irish don't bother to hurl invectives like "asshole" or "douchebag." Instead, the anti-Bono-ites have declared Mr. Hewson to be a "pox."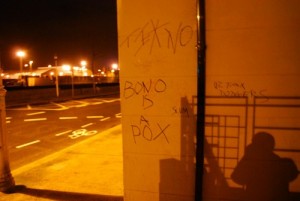 The "Bono is a pox" meme has manifested itself in graffiti all over the Republic over the years.  There's even a blog dedicated to documenting this particular bit of socio-political commentary.  As you'll see, a lot of this range has to do with U2's, er, complicated tax relationship with the government of Ireland.
This will no doubt delight you if you're a Bono-hater.  But let's give the man equal time.  Here's "Seven Reasons Bono Isn't Actually a Pox."