Here are photos from Joe Bonamassa's Toronto show
Staff photographer Andrei Chlychkov's latest assignment was to snap some shots of the Joe Bonamassa show at the Sony Centre in Toronto on November 3. Here's the setlist. Text by Craig McRae.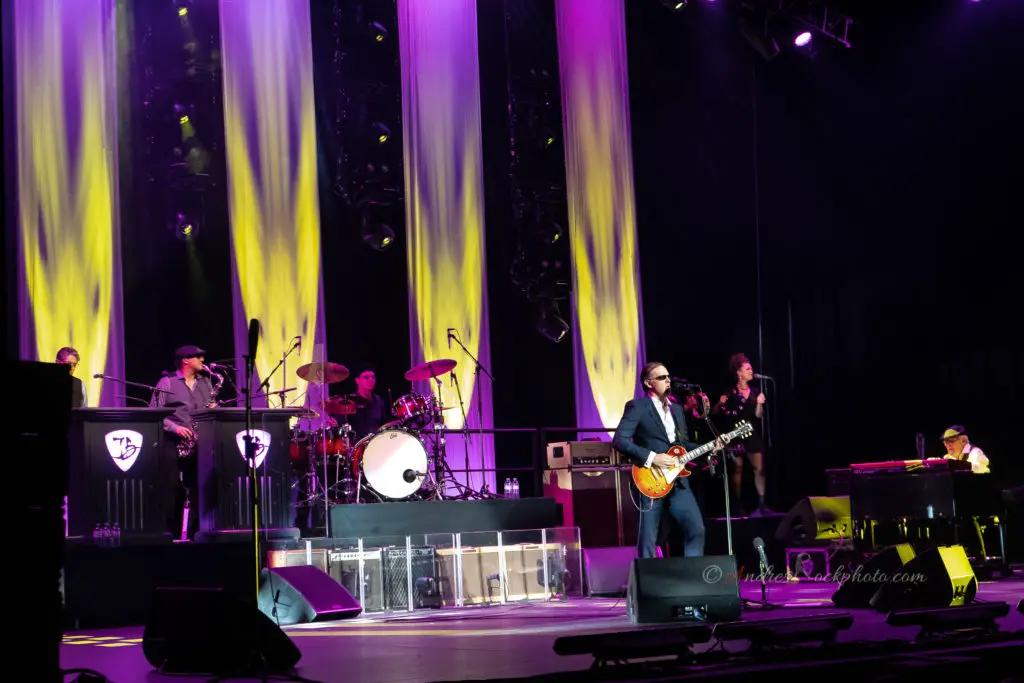 Friday, November 2 and Saturday, November 3 brought one of the world's leading guitar virtuosos and collectors to the Sony Centre in Toronto, along with a top-notch band and one very special guest on the Friday night.
Joe, known for his blues and rock riffs, and his attention to detail in sounds also has a huge guitar and gear following from his fans due to the size of his almost priceless collection, brought five guitar amps (two brand new Joe Bonamassa Fender 1959 80w Signature Twins, 2 Dumble Overdrive Specials and a Dumble cabinet) and a fantastic ever-changing lineup of guitars that made all the guitar gear fans drool with envy as he changed guitars for most songs to another and another unbelievably collectable guitar.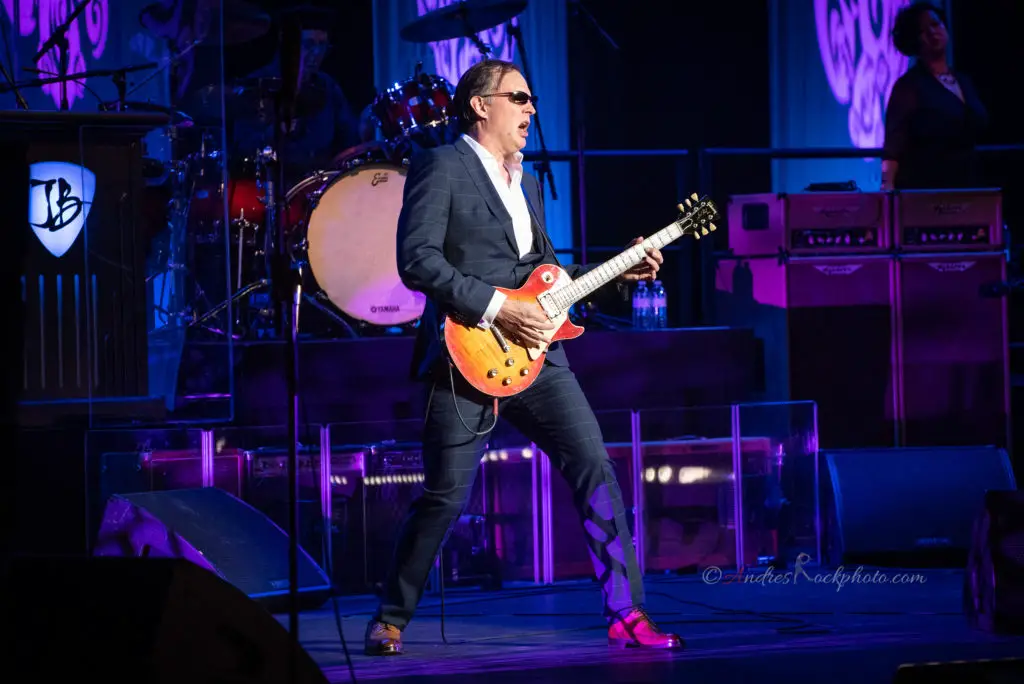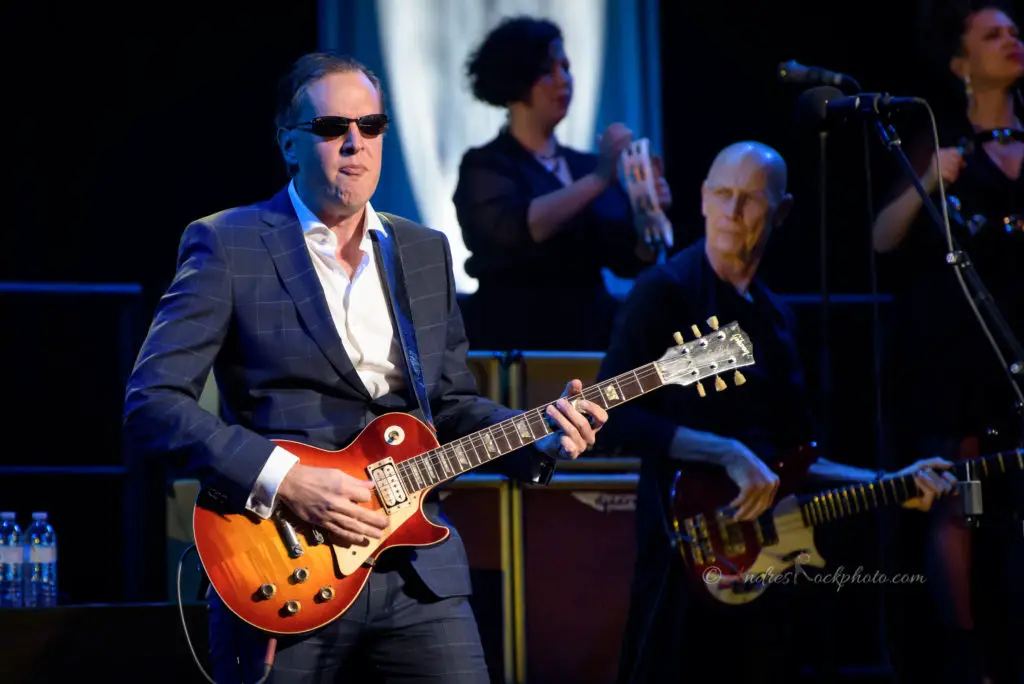 Joe kicked the night off with no opening band, and got the evening off to a great start of over two hours of world-class playing from the fantastic group of musicians that join him on his tour:
Bassist Michael Rhodes – Famous session player who's played with everyone from Buddy Guy, Garth Brooks, Elton John and even Taylor Swift
Drummer Anton Fig from the World's Most Dangerous Band (David Letterman's former) house band who has played with thousands of musicians that crossed his stage during his tenure there
Reese Wynans – Keyboardist from Stevie Ray Vaughan's band Double Trouble – A blues guitar player couldn't ask for a better keys player!
Lee Thornburg on trumpet from Supertramp and Tower of Power
Paulie Cerra playing Sax, from Stevie Wonder's touring band
Two backup singers, Jade MacRae and Mahalia Barne, both from Australia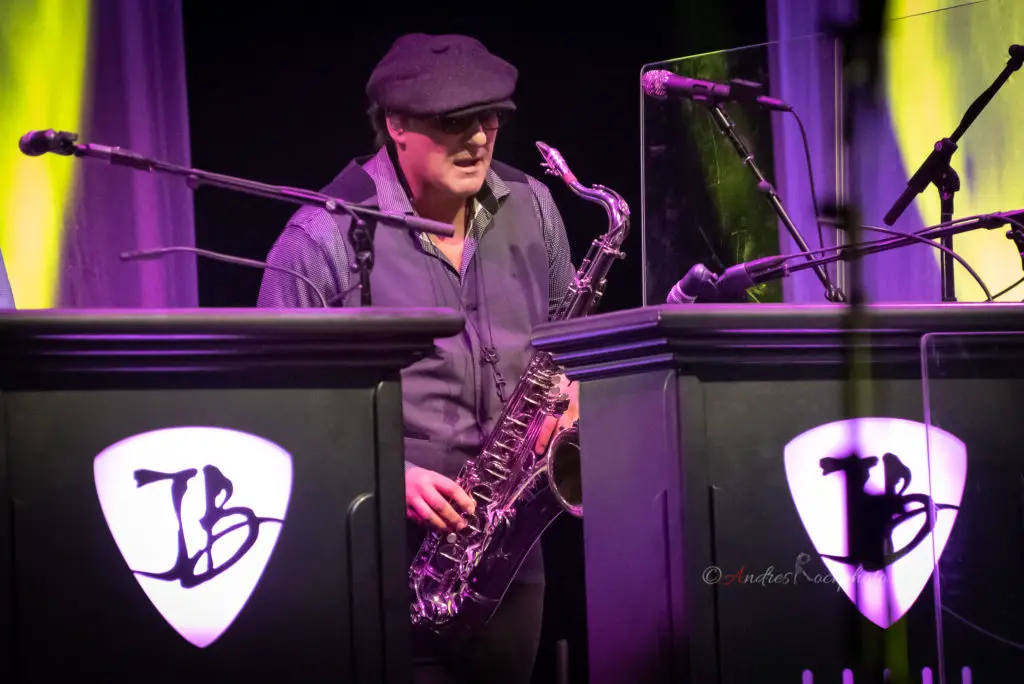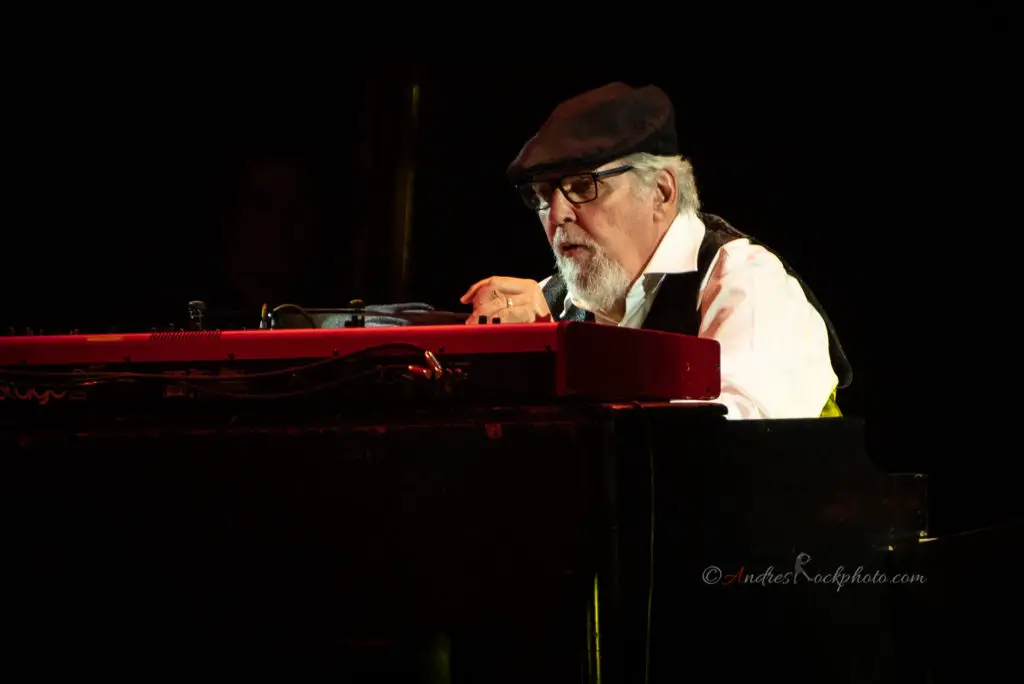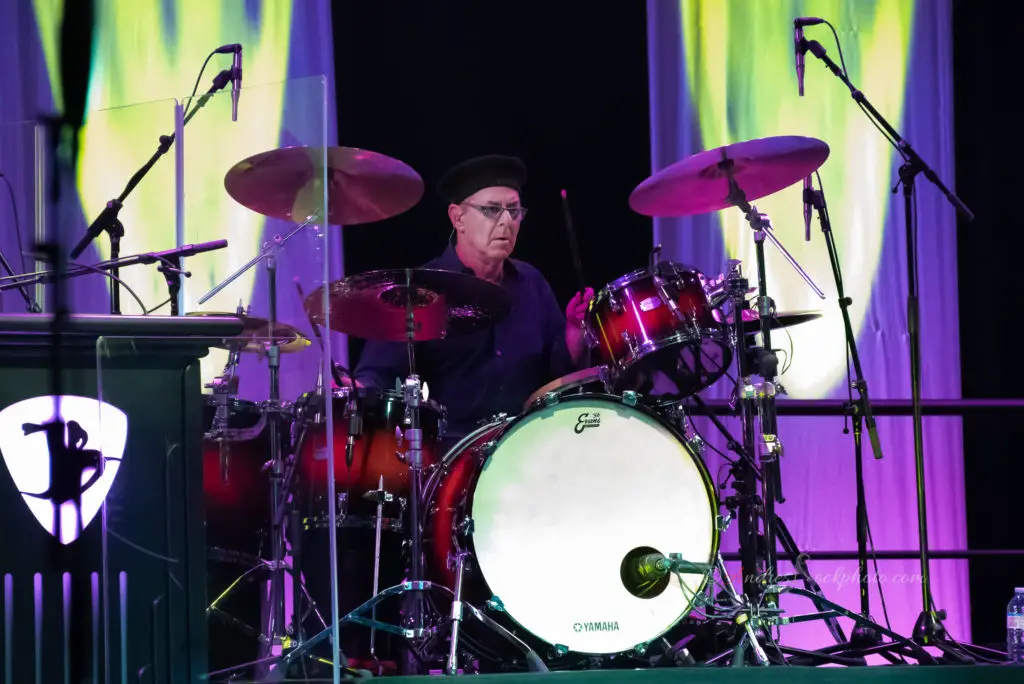 Some highlights of the night include that fast-paced start with "King Bee Shakedown," played on a beautiful old Sunburst 1957 Fender Strat, before he moved to a few songs on Les Paul.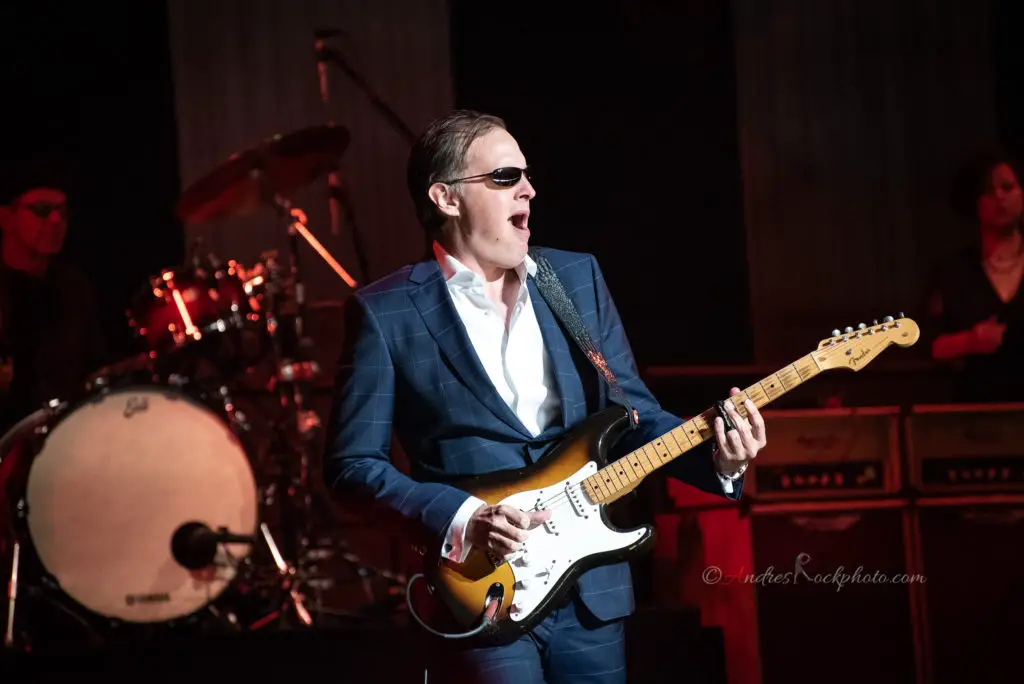 Albert king's blues shuffle "Don't You Lie to Me" on a tobacco sunburst Gibson 335 was recognizable with Albert's signature playing all over the song with a beautiful vocal solo by Mahalia that would challenge Pink Floyd's "The Great Gig In The Sky".
Joe Switched it up to a Les Paul again to play the groovy "No Good Place For The Lonely" from his #1 blues charting 2016 album Blues for Desperation.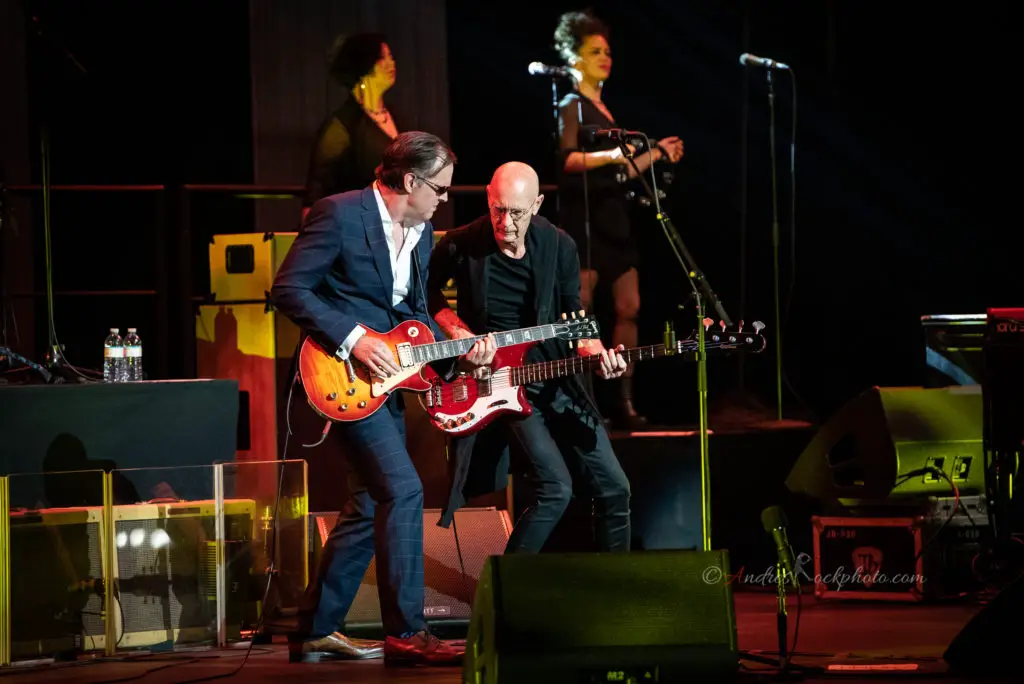 Joe kept the same Les Paul for "How Deep This River Runs" from the same album that featured a fantastic call and response solo at centre stage duel with his bassist Michael
For the next number, "Breaking Up Someone's Home," Joe brought out a 1958 Flying V Korina (one of only 98 made!)  and while every song had some tasteful guitar solo of some sorts, this one featured a great keys solo and trumpet solo.
"Slow Train" from his 2011 Dust Bowl album brought out a lovely old black pickguard Telecaster with a fantastic start by the tightest band, that completely resembled the sound of a slow train starting up, and once that train got rolling, Joe let Mahalia sing a few verses with her powerful voice.
Some other fantastic points of the night include at one point when Joe walked back to his amp repeatedly in between songs to tap an amp that was being temperamental, and said "This one's on fire!," so he was down to 4 amps at that point.
The lighting was clear and direct, and the stage plot was simple and well placed out, with Joe playing front and centre and he knows how to please the crowd, constantly walking back and forth during solos to the stage's edge so everyone could get a view of his lightning fast hands playing more notes than most guys could in a year.  His two horn players had classy old school big music stands with Joe's "JB" initials lit up on them as a nice touch.
At the second-last song before the encore, there was some commotion on stage and everyone wondered what the heck was going on as Joe was dealing with something on stage, then got Reese to solo while he walked over to sidestage to talk to a Roadie, who then came out and seemed to grab something.
After the song, Joe gets on the mic and says: "Folks, this is my 29th year in the music business. I've seen everything during that time make it's way up on stage – food, bottles, naked pictures, but this is the first time I've ever had a motherfuckin' snake up on the motherfuckin' stage".
Somehow, a snake had appeared on the stage (yes, an actual live snake) and was slithering around while Joe was playing a blistering guitar solo. Clearly, Joe's fanbase has broadened.
Joe then pointed out that his touring band consisted of "seven of the greatest musicians and one snake".
During the show, Joe and his band would toss in several little clips of other songs they've covered in the past:  ZZ Top's "Waiting For The Bus," Deep Purple's "Hush," and Anton started off one song with the iconic drum start to Led Zeppelin's "Rock and Roll."
For his one encore, Joe brought out his old Tele again and introduced the song like this: "Somethings on fire over there, been one of those nights, Snakes, fire–clearly we're rocking too hard. But this next song is a song about a boy and his pet snake Beauregard" before he rolled into one of his best-known numbers, the inspirational "Mountain Time."
Joe's fanbase has steadily been growing as he constantly tours, records, and films, before heading back out on the road again to start it all over again, and while this tour packed the Sony Centre for two nights, we can be assured that the next time we see him, he'll have an even bigger following thanks to all of his hard work in playing and being the world's best spokesperson for the blues!