Here Are Two Great Stories from the World of Rush
As Rush winds down what looks to be their last-ever major tour–this is why I'm flying to Las Vegas next weekend; I gotta see them one more time–the band's media profile has never been higher.
Item 1: Contestant wins on Jeopardy by betting $2,112 on a Daily Double.
You know what helped? A pair of Neil Peart's drumsticks that she brought as a good luck charm. (Via Ultimate Classic Rock)
https://youtu.be/0-iOsQaE978
Item 2: Speaking of Neil, Rush is giving something back in aid of the Princess Margaret Cancer Foundation. Let me quote this email from Kate at the hospital's agency.
From July 18th – July 27th, Rush fans from around the world can bid in an eBay.ca charity auction for a Neil Peart Icon Snare Drum autographed by Rush. An exact replica of the snare drum on Peart's one-of-a-kind #R40 drumset, this limited edition snare is made from 1500-year-old Romanian River Oak salvaged from the bottom of the Olt River. Inlaid with intricate, laser-cut exotic woods, and complimented by gold-plated hardware — only 250 of these drums were ever produced. A signed and numbered certificate of authenticity and deluxe carrying bag will accompany each drum. In addition, fans will also have the opportunity to bid on a 17" Paragon Crash Cymbal from Sabian autographed by Geddy Lee, Alex Lifeson and Neil Peart. 100% of the proceeds from the auction of these items will go to Peart's charity of choice, The Princess Margaret Cancer Foundation.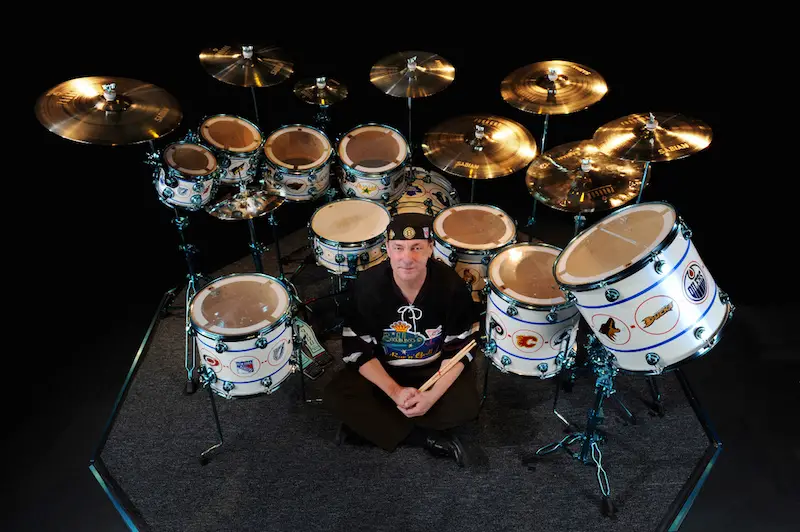 About the drum kit
Highly recognized by hockey fans and Rush fans alike, Peart was featured playing his percussion-focused rendition of The Hockey Theme on the drumset in the opening sequence of hockey telecasts on The Sports Network (TSN) and has been on display in the Hockey Hall of Fame along with the Stanley Cup since 2010. Peart's iconic drumset will be displayed on the Canadian dates of the R40 tour alongside a signed, limited edition Neil Peart Icon Snare from DW and a signed Sabian cymbal which will both be auctioned on eBay. 100% of the photo donations and auction proceeds will go to The Princess Margaret Cancer Foundation.
 The iconic hockey kit was created for Peart in DW's custom shop in 2009 featuring airbrushed, lacquer graphics of 30 NHL logos and custom ice blue hardware. The kit was used in the recording of Peart's recording of The Hockey Theme written by Dolores Clamen which was made available on iTunes with a portion of proceeds benefitting Hockey Fights Cancer and was also featured in the 2010 DVD "Fire on Ice: The Making of the Hockey Theme."