Here's to 50 Years of FEQ (Festival d'été de Québec)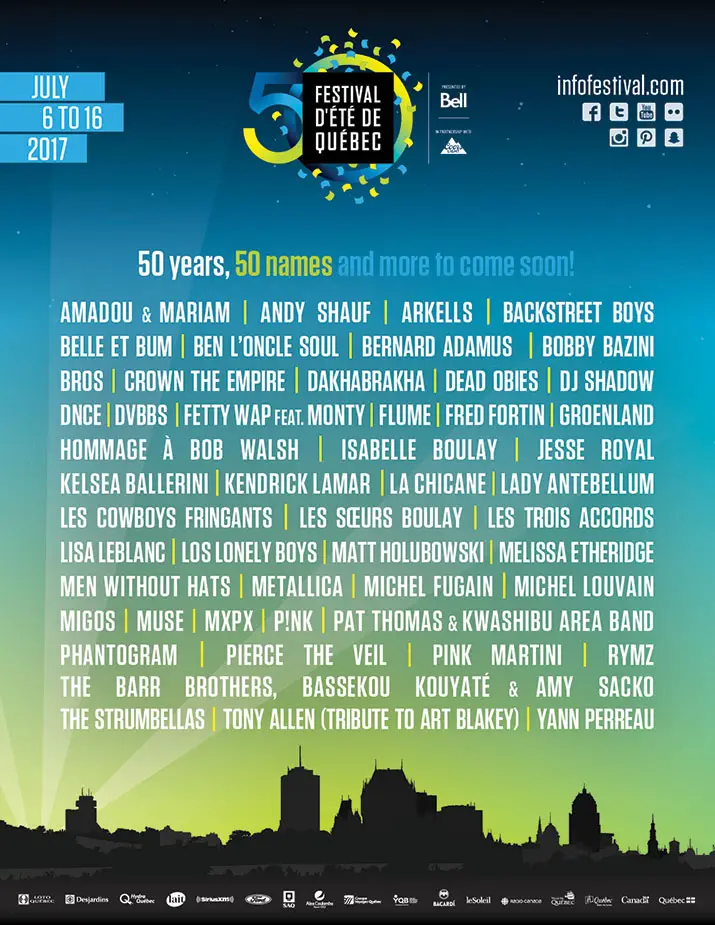 [Fifty years? Gilles LeBlanc takes a look. – AC]
Festival d'été de Québec has revealed its initial list of 50 artists who will be visiting "La Vielle Capitale" between July 6-16 for the golden 50th anniversary of Canada's biggest music-related event.
FEQ, as it's more commonly known to the millions who attend each year, combines the history of a location such as the Plains of Abraham with scenic, old-world charm. Not to mention one of the most eclectic festival lineups you'll find anywhere. You name the genre, they're represented in 2017 – Everything from thrash metal favourites Metallica to country sweethearts Lady Antebellum, hip hop heads Kendrick Lamar and Migos, rock titans Muse, legendary francophone flag-bearers as well as nation-uniting Canadiana in Arkells. Oh, and BACKSTREET BOYS will also be there, with many, many more names to be announced.
At $95 for an 11-day general admission pass, it's hands down the best deal for music fans, period. In this celebratory, sesquicentennial year, why not think of a summer getaway to postcard-perfect Quebec City? Start planning with InfoFestival.com/en/Tickets/Packages.
I know my Canada includes great music, and yours should definitely include #FEQ50!