Here's How You Deal with a Westboro Baptist Church Protest at a Concert
The Westboro Baptist Church–probably the most reviled denomination in America–insists on picketing concerts as a way of spewing their hate.  The WBC is infamous for protesting funerals of soldiers, AIDS victims and others they feel deserve to die as part of their god's divine will.  By any measure, their behaviour has been awful, callous, disrespectful and just generally hateful.
On Friday night, Lorde played a show in Kansas City and the WBC weirdos were outside staging their first protest since founder Fred Phelps died earlier in the week.  People were musing if the WBC would have to take some of its own medicine after the death of one of their own.
Nope.  Here's what they saw instead.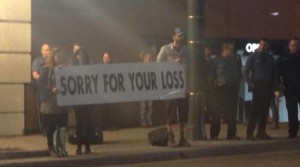 How awesome is that?