Here's the Latest from the Led Zeppelin "Stairway to Heaven" Plagiarism Trial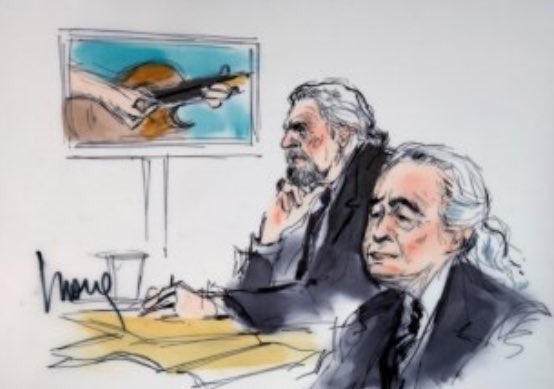 Yesterday was day two of the trial set to determine if Led Zeppelin ripped off a band called Spirit for some of the guitar bits in "Stairway to Heaven." My LA correspondent Pamela Chelin is in the courtroom for the duration. Here are two reports.
Legendary Led Zeppelin guitarist Jimmy Page took the stand in a Los Angeles courthouse in a trial to determine whether he ripped off the 1968 Spirit song "Taurus" while writing "Stairway to Heaven."
Skidmore, the trustee of the Randy Craig Wolfe Trust, dubbed after the real name of Spirit frontman Randy California, filed suit in 2014. His suit notes that Spirit and Zeppelin played a number of shows together before the 1971 release cult classic "Stairway."
Wearing a black suit, blue tie and white shirt, Page weighed in on an array of topics including his impressive guitar skills and lack of Internet savviness.
Read the five most eye-opening revelations from his testimony.
A witness testified to seeing Robert Plant at a Spirit gig about a year before "Stairway" was released.
Led Zeppelin frontman Robert Plant's famously unruly coiffure became a topic of testimony during the second day of a trial to determine whether the group stole from another song to create their trademark anthem.
Testifying for plaintiff Michael Skidmore, U.K. witness Michael Ware recalled seeing Plant at a performance by Spirit — the group Zeppelin is accused of ripping off — at Mother's Club in Birmingham, England, in 1970.
Ware, who in his video deposition said that he was 17 or 18 at the time of the show, said he recognized Plant by his "distinctive long, corkscrew blond hair."
Pamela tells me that now everyone knows that Page and Plant are in the courtroom, she has to line up at 6am to get into the building.