Here's Tip for Dudes Who Want to Do Better at Board Games
Researchers at Imperial College London have done some work on how music impacts on the concentration of men and women. The testing method was the old game Operation.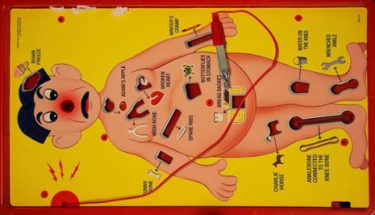 Groups of volunteers were divided by gender and told to play the game–which, of course, involved plenty of concentration and a steady hand.
Women seemed totally unaffected by whatever music was played in the background. They made the same average number of mistakes regardless of the music involved. But when it came to the dudes, rock music–specifically AC/DC's "Thunderstruck"–caused them to make substantially more mistakes while playing the game. If the music was switched to Mozart or nature sounds, their performance improved.
What does this prove? A couple of things. Men are more distracted by rock music in times of intense concentration–a state of auditory stress–while women are immune to such things.
Bottom line is that if women want to kick the ass of men when playing board games, let them choose their silly rock music.
(Via The Daily Mail)