Heroin Overdose Kills Dolphins at Rave. Wait–What?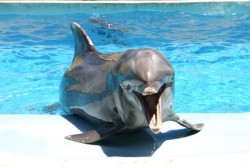 According to the Huffington Post, a couple of dolphins at Connyland Zoo in Lipperswil, Switerland, died of a heroin overdose following a rave that was held on the site.  I am not making this up.
To be fair, it wasn't actual smack found in their systems.  Shadow and Chelmers–that was their names–were found to have expired with Buprenorphine, a drug often use to wean users off their daily dose of China White, coursing through their bodies.
The theory is that because dolphins are "conscious breathers" like us (which means both species can decide when and where to take a breath), the opiates shut off the part of the brain that governs this activity.  
Shadow and Chelmers were so stoned that they simply forgot to surface to breath and drowned. Authorities suspect that the Buprenorphine was somehow fed to them during the weekend-long rave.
This is a really, really sad story.  Read more here.