Hey Bieber Fans! Did You Cut Off All Your Hair? Suckers.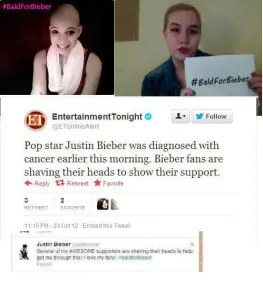 In a perfect example of "don't believe everything you read on the Internet," a bunch of Bieber fans (the exact number is unknown) shaved their heads in solidarity over the Bieb's touch of cancer.  
Well, guess what?  He's fine.  It was a hoax.  And now lots of little girls look a lot more like Michael Chiklis.
The story goes like this.  Entertainment Weekly allegedly put out a tweet that read as follows:  "Pop Star Justin Bieber was diagnosed with cancer earlier this morning. Bieber fans are shaving their heads to show their support."
The tweet came with a couple of pictures (via Biebs himself, allegedly) showing a couple of dans who had already cut off their hair in support.
But it was a joke.  There was no tweet from ET.  The people at 4chan were having fun with Photoshop.
 It's going to be awkward for these girls at school on Monday, innit?
(Via TechCrunch)