Hey, Eddie Vedder: I've found your better woman
[This is actually from Gilles LeBlack. WordPress wouldn't work for him last night so I'm posting it in his stead. – AC]
When you're Eddie Vedder, there pretty much isn't anything you can't do. No wave is too high to surf, so to speak.
Do you want to take a break from Pearl Jam to write an album's worth of songs on a ukulele? Go right ahead! You want to launch own your festival at the same California beach where you caught your first waves? You can headline every year, right? Sure, why the $#@% not?
The third edition of Ohana Festival, which Vedder co-founded with pro surfer Kelly Slater, was by all accounts another rip(tide)-roarin' success. Eddie surprised early attendees on both Friday, September 28th and Saturday, September 29th with daylight solo acoustic sets, the latter while wearing some sweet boardshorts.
It pays to be early at #OhanaFest! ? #EddieVedder pic.twitter.com/Sr2RYkcOHq

— The Ohana Fest (@TheOhanaFest) September 29, 2018
Before his evening performance, Vedder joined guitar god Johnny Marr for a version of The Smiths' "There Is a Light That Never Goes Out" that begs the question, "Who Needs Morrissey Anyway?"
Eddie himself covered Warren Zevon, Cat Power, Tom Petty, George Harrison, The Clash, Bruce Springsteen and Uncle Neil Young in addition to eight Pearl Jam songs. For "Better Man", he brought out Liz Phair of Exile in Guyville fame. As per NME, as Vedder was introducing Phair he said that "this song was really written for a woman to sing and I don't know if I've ever heard a woman sing it, so this is nice."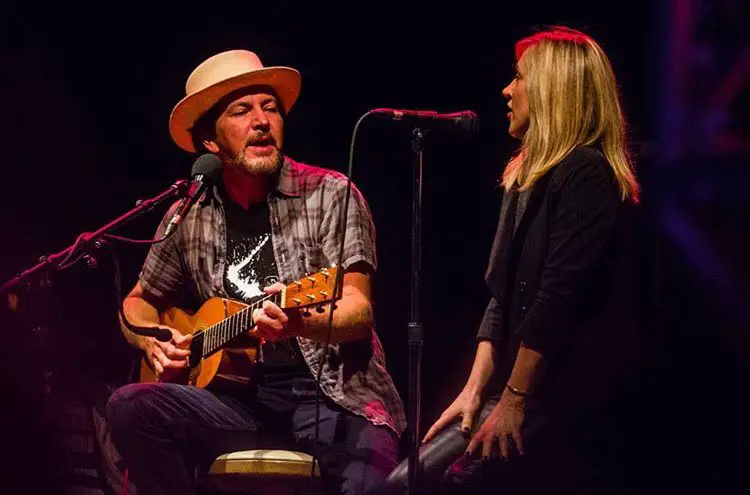 I'm sure it was and Liz is Ph-antastic, but Eddie my dude…you can't tell me you haven't heard Sugarland's countryfied interpretation of your 1994 song. It can be found on their Live on the Inside CD/DVD, and if there's anyone who can put even your grungily angelic voice to shame, it's Jennifer Nettles sorry.