And The Highest Paid YouTube Star Of 2017 Is…A Gamer?
I have t say I was a little stunned to learn that bulk of the top YouTube earners in 2017 were not musicians.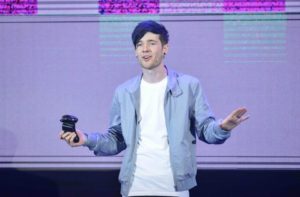 You may not see Daniel Middleton walking down a red carpet, but he is a celebrity in a league of his own. With nearly 17 million followers, a world tour that included four sold-out nights at the Sydney Opera House and over 11 billion views on YouTube, gamer DanTDM, as he is known to his fans, ranks as the world's highest-paid YouTube star of 2017 with $16.5 million—the highest cume of any YouTube star since Forbes started keeping track in 2015.
The rising stars on YouTube may spend most of their time in pixelated worlds, but make no mistake, they're collecting millions of dollars in cold, hard cash. For the first time, nearly half of those on our annual list are gamers. Viewers flock to their channels to watch them play the latest titles while delivering pithy commentary. Six of the 10 celebs on the ranking are newcomers, who entertain with videos of stunts, children unwrapping toys and, in DanTDM's case, Minecraft streams.
Combined, the world's 10 highest-paid YouTube stars earned $127 million between June 1, 2016 and June 1, 2017, before management fees and taxes. Figures are based on data from YouTube, Social Blade and Captiv8, as well as interviews with agents, managers, publicists, producers and lawyers.
Payouts here continue to grow rapidly.
The list's cumulative earnings of $127 million is up 80% from the $70.5 million the top 10 YouTube stars made last year. In a big part, that's thanks to sheer views–which translates to ad dollars. Six-year-old Ryan of Ryan ToysReview counted over 8 billion in the time period under consideration, while gamers like Evan Fong and Mark Fischbach each tallied over 2 billion. Additionally, as YouTube matures, its stars become more sophisticated in marketing themselves, which translates to bigger tours, more lucrative branded content deals and higher merchandise sales.
"What's cool about YouTube, unlike TV, is that there isn't that competition element. I mean, you could make it into that, as there's obviously numbers involved, but people are free to watch whoever they want," Middleton told the Guardian last year.
When numbers are involved, gamer Evan Fong (No.2, $15.5 million) is a solid runner up. With billions of views, branded deals worth hundreds of thousands of dollars each and merchandise that teens love, gamers can now earn more than ever on the streaming site.
"For gamers, it's two fold," says Krishna Subramanian, the cofounder of branded content platform Captiv8. "Their audience is constantly growing as they look for tips and tricks, and gaming companies look to them as a way to advertise in a space with less competition and a lot more authenticity."
There's much more to read on this at Forbes.