Hillary Clinton's Ghostwriter Used to be in a Campy Rock Band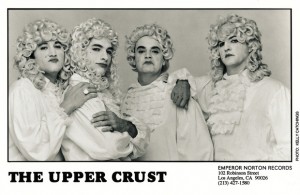 If you're famous, you don't have any time to write a book.  Instead, you dictate some thoughts and a ghostwriter puts it all together for you.
Such is the case with Hillary Clinton whose book, Hard Choices, comes out on Tuesday.  The tome was ghosted by a guy named Ted Widmer who, in another life, was known as Dr. Rockingham in a Boston band called the Upper Crust.  They played AC/DC-like riff rock while dressed like it was the 18th century.  They were good enough to be asked to appear on Conan O'Brien.
Anyone remember them? Nope.  Me, neither.
If you need more, go here.  Poor Ted.  He had to chronicle Hillary's love of stuffed animals.