Hold on: You mean rock is still the world's favourite genre? These stats say just that.
For years now, we've been told (usually by commentators out of the US) that rock is dead and that hip-hop is now the major driver of culture. "Jazz had a good 50-year run before it was replaced by rock'n'roll in the 1950s. Now rock is being pushed aside for hip-hop. It's just the way things work, you know?"
That's definitely true is you look just at the charts–and American charts at that. They look at what's streaming and what's selling, documenting the winners and losers in the music space. And there's no doubt that hip-hop and rap have been the big winners for years. Drawing data from the charts, rock is definitely in second place, slightly ahead of pop.
However…
MusicWatch conducts annual consumer surveys, asking people what they regular listen to and their favourite genres of music. This means not only buying and streaming new product, but also what artists they see live, which ones they follow on social media and buy merch. Factoring in those behaviours, rock leads over total R&B/hip-hop by a decent margin.
Breaking down things further, classic rock is the favourite subgenre followed by alternative, hard rock/metal, and soft rock. Even alternative shows a higher "favourite" percentage than rap and hip-hop.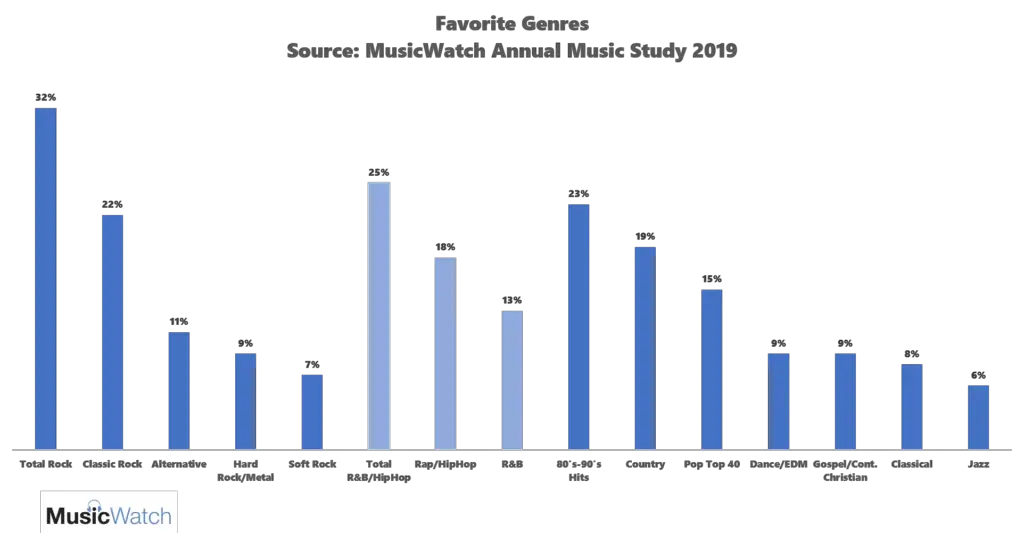 Wait–what? Rock is still the world's favourite genre? Apparently so. But but but the charts!
Charts are influenced by heavy users, those who listen to ten hours or more of music each week through streaming services. Because that subset of music consumers is so into hip-hop and R&B, those genres dominant, resulting in that music dominating the streaming charts.
But not everyone streams that much and those who don't tend to listen to different music. Light streamers prefer hits from the 80s and 90s as well as classic rock.
Here's another graphic. Note that rock outperforms rap/hip-hop in three of the four categories.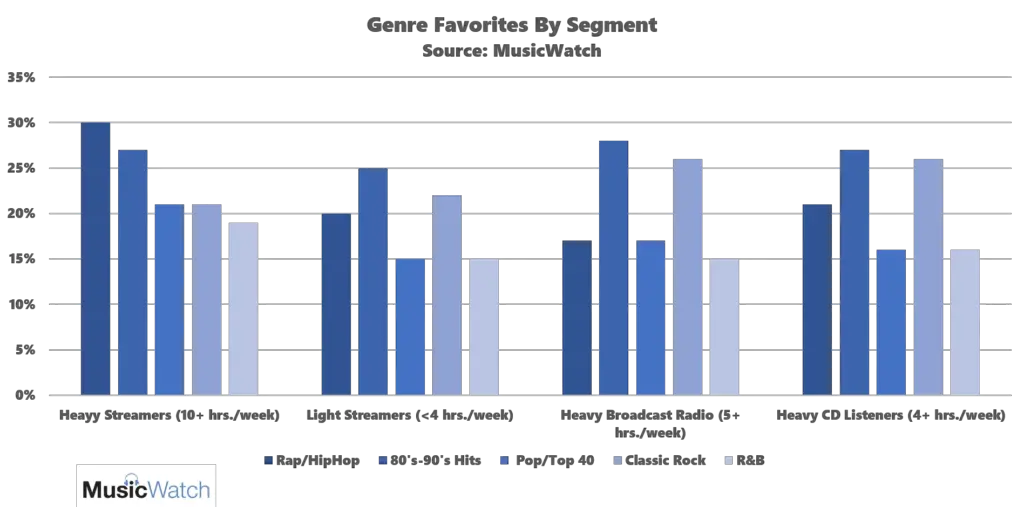 Popularity of genres was also measured by the amount of money spend on concert tickets and band merch. And what about going back to your music library to listen to older music? The survey points out that most people hit up their rock records.
This isn't a slam against any particular form of music. Instead, I'm looking for clarity in what really is driving culture. Demographic trends point to hip-hop and rap becoming dominant in the years and decades ahead. But is rock dead? Not quite, apparently.
More from MusicWatch here.