Honda's New iPhone-Friendly Connected Car System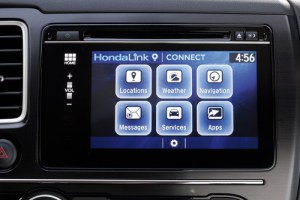 If your OS of choice is Apple and you like Hondas, you may be in for a treat. The manufacturer has unveiled a very iOS-friendly infotainment system that will appear in the 2014 Civic, which goes on sale today.
From Gigaom:
[I]t bring an iPhone feel to the dash. The seven-inch screen can be navigated through familiar smartphone gestures such as swipes and pinches, but it also further integrates Eyes Free into its user interface, allowing drivers to launch apps and access iPhone features through spoken commands to Siri and physical buttons on the steering wheel.
Honda is also launching a new set of apps for the iPhone 5, 5s and 5c, which will connect directly to Link's screen and in-car user interface. First up is a launcher app will act as bridge between third-party apps on the phone and Link.
Interesting. As usual, I'm wondering what new behaviours this will create when it comes to listening to the radio and listening to music. Read more at Gigaom.