Hoping to See Johnny Lydon in Jesus Christ Superstar? Yeah, Well, About That…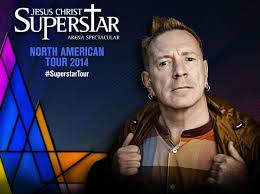 Earlier this year, we got news about a new touring version of Andrew Lloyd Webber's Jesus Christ Superstar that was going to hit arenas across the continent.  Notable among the cast was Johnny Lydon–yes, him–as King Herod.
I'm not a musicals person, but I would have gone just to see him.  And seeing Brandon Boyd of Incubus as Judas would have been cool, too.
Rehearsals had already begun and tickets were on sale for some fifty dates, starting with a gig in New Oreleans on June 9. But now it's all been cancelled.
Why?  Poor advance sales. Canadian producer Michael Cohl had no choice to pull the plug.