Horse Show + Bjork's Fashion Sense = Springsteen's Daughter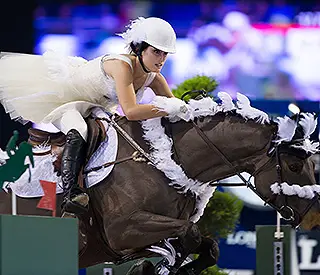 The Boss' daughter, Jessica, is crazy about horses. She recently competed in the "Style & Competition for AMADE" at the 2013 Gucci Masters at a spot north of Paris. In other words, about as far as you can get from working-class New Jersey. Not that there's anything wrong with that, of course.
What most people don't understand is the costuming nature of the event. Taking a cue from Bjork, apparently, Jessica was dressed as a swan.
More coverage and pictures here and here. Thanks to John for the link. I think.