How a Screaming Wife and Two Men and a Dog Contributed to David Bowie's Success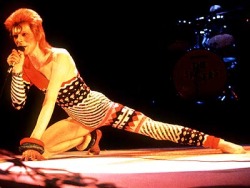 Here's an interesting bit of Bowie hisotry from The Telegraph:
Any live performance by David Bowie these days would be met by thousands of screaming fans and rave reviews worldwide.
But unseen footage from a 1972 concert suggests his fame was not always so assured, with an audience made up of his adoring young wife and "two men and a dog".
Video from the small concert, to be broadcast as part of an upcoming BBC documentary, shows a screaming Angie Bowie surrounded by just a handful of other fans as she looks up at a Ziggy Stardust performance.
Her support, it has been claimed, helped transform Bowie into a global phenomenon, as the world aligned with the "rock star" persona he adopted.
The footage is just one of the unseen clips from David Bowie: Five Years,which focuses on 1971, 1975, 1977, 1981 and 1983 as the "critical" moments of the artist's career.