How Johannesburg's artists are driving change
Artists of South Africa have been featured on these pages before. I have a particular affinity for the country and the people. And the music, of course. Johannesburg is home to a dichotomy of living. Vestiges of apartheid remain while the push for change continues.
Johannesburg is a city divided, intentionally. Under South Africa's apartheid regime, the government forcibly displaced millions of black citizens in order to enforce its ideology of racial segregation. The Group Areas Act of 1950 designated specific residential and business zones for each race in urban areas; in Johannesburg, blacks were moved out of the inner city and into townships like Soweto, which were miles away from many people's places of employment in the city's Central Business District.
Apartheid officially ended in 1994, when Nelson Mandela became South Africa's first democratically elected president, but its legacy remains. The country was recently named one of the most unequal countries in the world by the World Bank. An earlier study from 2014 found that nearly 60 percent of the country's unemployed citizens lived in townships, which are still overwhelmingly black. According to a 2016 economic working paper, the top 10 percent of the country (which is disproportionately white) controls at least 90 percent of the national wealth, while a majority black 80 percent owns virtually nothing.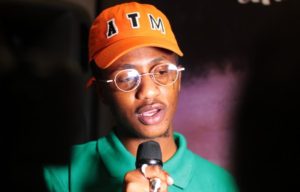 Music is a force in places like South Africa. Trying to heal such a divide requires persistence and time.
On the surface, the South African industry is different now: In 1997, Universal Music Group launched its South African branch, which has become a home to mainstream black South African musicians, most recently rising rapper Nasty C. Prominent local labels like Ambitiouz and Family Tree have signed some of the country's most promising rap artists. The Black Panther soundtrack—which featured four South African artists, in addition to others from throughout the African diaspora—has afforded international exposure to the local hip-hop scene, and artists like Black Coffee and Die Antwoord have made names for themselves across the globe. But the local artists I spoke to said they felt like international record companies, instead of trying to nurture South African artists, set up shop to push international acts onto the country.
South African artists, no matter how big their following online, still struggle to get the airtime they need to expand their fan bases at home. In 2016, the South African Broadcasting Corporation announced it would adopt a 90 percent South African music quota for its radio stations, but the implementation was widely considered a failure and soon reversed by the SABC. According to artists and young people I spoke with in Johannesburg, stations faded right back into playing majority international music after showing a few months of promise. German international broadcaster Deutsche Welle reported that one station abandoned the 90 percent quota within two weeks.
"That's still a struggle that we're under," eMTee told me. "Not so long ago, they promised us 90 percent local music and all we hear is American music."
The struggle continues while artists continue to fight for voice and audience.
"This is the after-after- after-hours spot," said Lady Skollie, a local visual artist and DJ, who detected me sizing the place up. Clad in a bright red kufi and Nike training gear, she was sitting in a booth packed with about seven other people, taking a few moments to relax before her set later that night. To her left was Moonchild, whom I recognized from her big blue hair. She was going over her setlist with her boyfriend and DJ, discussing which song would make the most sense before the New Year countdown.
Twenty minutes before midnight, Moonchild stepped onstage wearing a see-through plastic dress with fishnet stockings. After the crowd erupted in cheers and toasted glasses of champagne, she jumped into a rendition of her standout single "Thirsty," which pairs Moonchild's light voice with the forceful, high-octane sounds of gqom, a South African club music that originated in Durban in the mid 2000s and is now breaking ground beyond the country's borders. During the shortened screams worked into the song's hook, she hopped on top of the DJ table, simultaneously twerking while bellowing bars that switched between English and Xhosa. The energy was so high I forgot for a second that there were fewer than 50 people in the space.
There's so much more to this story. Read the entire fascinating piece on Noisey.