How Many Elvis Movies Do We Really Need?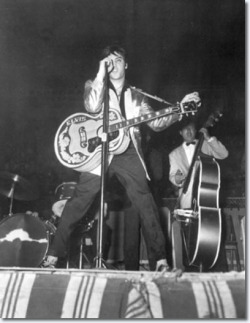 At least four, apparently. This is from The Hollywood Reporter:
Despite the challenges, four unauthorized Presley projects are in varying stages of development. Each tackles the topic differently: Bing's project [Billionaire Steve Bing's bio-pic that he's been working on with American Idol creator Simon Fuller), set up at Fox 2000 and based on the biographyLast Train to Memphis, is expected to be a traditional biopic; The Identical has a faith-based bent and centers on an Elvis impersonator; Fame & Fortune is adapted from a memoir by a Presley bodyguard; and a project financed by producer Michael Benaroya (Margin Call), titled Elvis & Nixon, centers on an encounter between the singer and the president.