How One Band's Fans Subverted the Music Charts with Social Media
Charts are how the music industry keeps score. They document a song's success or failure by combining sales and radio airplay. And they're increasingly using other metrics in their calculations like YouTube views, P2P file-sharing, streaming and other online activities.
Manipulating those metrics in order to push a song higher up the charts is a practice that's being going on for decades. Making sure that no one cheats is a big part of the chart compiler's job. But what do you do about something like this?
I'd never heard of Fifth Harmony before now, probably because they're one of those manufactured X Factor things. One of their songs, "Miss Movin' On," did unusually well on some streaming charts. It seemed a bit weird. And it was. From Evolver:
Their fans, apparently self-organized on a grassroots level, put together a social media campaign to encourage the band's fans to listen to the same song by said band, on repeat, 24 hours a day, seven days a week, on Spotify and Rdio.
Here's the tweet that went out to all Harmonizers (that's what the group's fans call themselves):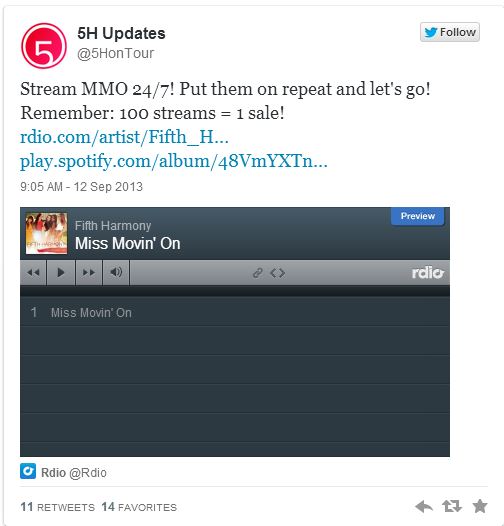 Sneaky, no? Makes you wonder who else is engaged in this sort of subterfuge. Read the whole story here.